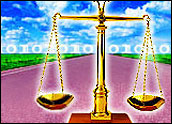 Three former Homestore.com (Nasdaq: HOMS) executives plan to plead guilty to charges stemming from millions of dollars of accounting misstatements and reportedly will cooperate with investigators as a federal probe moves forward.
According to several published reports, the company's former chief financial officer, former chief operating officer and former director of finance-department operations have agreed to enter guilty pleas on a variety of charges and to aid the probe into Homestores accounting practices and its dealings with online partners, including AOL.
Formal announcement of the pleas is expected Wednesday. Homestore did not immediately respond to calls seeking comment.
Stepping Stones
Homestore became the first and most visible example of alleged accounting fraud in e-commerce last year when it acknowledged that it had inappropriately recorded bartered advertising as revenue. The company eventually adjusted its earnings reports for all of 2000 and the first nine months of 2001, reducing revenue by US$158 million for that period.
Corporate fraud investigations often build as investigators persuade executives to aid their inquiries in return for lesser sentences. Some published reports suggest the Homestore inquiry is being used to gather information that may implicate AOL, a longtime Homestore partner.
AOL has acknowledged probes by both the SEC and the DOJ. Earlier in the summer, it came to light that AOL's dealings with now-bankrupt e-commerce software maker PurchasePro had become the focus of that investigation.
Matter of Time
Gartner research director Rob Batchelder told the E-Commerce Times that it is only a matter of time and intensity of investigation before some questionable practices are uncovered, particularly among dot-coms that partnered during the frenzy of 2000.
"Those types of swaps and partnerships are ripe ground for investigators," Batchelder said. "I think investigators are still looking for companies that can be made examples of as well."
These types of probes are not new. Earlier this year, Amazon.com quietly agreed to SEC sanctions stemming from the way it structured and accounted for its dealings with Ashford.com. Ashford executives agreed to civil fines in that case.
Moving On
Meanwhile, Homestore has tried to put the matter behind it, immediately cleaning house and firing several employees in the wake of the accounting scandal. It later settled a lawsuit with shareholders of two companies that had alleged securities fraud, paying out $23 million but not admitting wrongdoing.
Though the company continues to dominate the online real estate space, its stock has fallen below the $1 level and it likely will face delisting from the Nasdaq soon. Homestore shares were down nearly 14 percent in midday trading Wednesday to 37 cents.
Last week, the company announced it was searching for a new president for its Realtor.com unit after longtime leader Steve Ozonian departed to join a competitor.