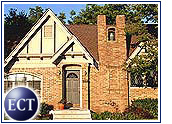 Homestore.com (Nasdaq: HOMS) rose US$4.70 to $31.64 in morning trading Monday, after Goldman Sachs added the stock to its recommended list.
Goldman analysts called the stock the "best defensive name in (the) Internetsector." The analysts also said the company has shown "consistent growth via strongfundamentals."
In addition, the analysts said, Homestore.com has "diverse revenue streamsthat provide solid visibility." Moreover, the company has morethan three times the listings and traffic of its nearest competitor, the analysts said.
The Goldman analysts also pointed out that Homestore has topped expectationsfor six quarters in a row. For the fourth quarter ended December 31st, the company said revenue roseto $79 million from $28 million a year earlier.
Income beforeextraordinary items totaled $3.3 million, or 4 cents per share. Those figures compare with a loss of $16.2 million, or 23 cents, in the year-earlier quarter.
Homestore.com has said it expects first-quarter 2001 revenue of $81 millionto $83 million, with pro forma earnings of 5 to 7 cents per share.
In its fourth-quarter earnings report, Homestore.com said its network, whichincludes such sites as Realtor.com, HomeBuilder.com and HomeFair.com, saw a102 percent increase in the average number of unique visitors per month, withabout 4.3 million in the fourth quarter.
Each user spent an average of 19.7minutes per month on the network, up 11 percent from the year-earlierquarter.
Shares of Homestore.com, based in Westlake Village, California, are downfrom a 52-week high of $72.