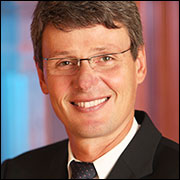 RIM Chief Executive Thorsten Heins on Monday told the crowd at BlackBerry Jam, a developers' conference being held in San Jose, Calif., that BlackBerry was still very much a player in the mobile world. He made the somewhat startling pronouncement that the company's subscriber base had risen to 80 million from 78 million over the most recent quarter, which ended Sept. 1, despite the lack of new products or major initiatives.
Perhaps more startling, Heins predicted that the company's mobile platform could well become No. 3 in the market once BlackBerry 10 arrives sometime next year.
Heins' comments are being taken with a grain of salt. The company's fortunes have plummeted over the last year, along with its global market share, which fell to 4.8 percent in the second quarter, according to IDC. A year ago, that number was 12 percent.
RIM will be reporting earnings this week, and it is widely expected that sales will be down by a significant degree. Indeed, the company has warned it will post an operating loss for the quarter.
None of this is a secret — nor is RIM's plan to relaunch itself with BlackBerry 10. In short, RIM certainly knows the stakes and has no doubt thrown its all into this make-or-break product line.
The question is, are Heins' projections at all realistic? Will the BlackBerry 10 wow the mobile world enough to propel RIM back into the big leagues?
Headed Downhill
Probably not, is the curt assessment of Trip Chowdhry, managing director of equity research at Global Equities Research.
"I don't think many people fully believe those numbers that Heins gave," he told the E-Commerce Times. "They haven't been reflected in RIM's previous earnings or its market share."
The company is heading downhill, and the release of BlackBerry 10 is not likely to change that, he said.
Chowdhry's view is so pessimistic he doesn't even see RIM as a viable acquisition candidate anymore. "I don't think a forward-looking mobile company would want to acquire it wholesale, although maybe parts of it might be sold."
A Slim Chance
Though he is a bit more forgiving, independent tech analyst Jeff Kagan — a self-described RIM fan — admitted the company has to thread a very fine needle to survive.
"By any measure, RIM is shrinking," he told the E-Commerce Times. The formula for its turnaround is a simple one: It has to introduce new products that its existing and, hopefully, former customer base can get excited about.
BlackBerry 10, RIM fervently hopes, will be that product.
Right now, it is too early to tell, although based on all the statements RIM has made about the forthcoming operating system, it has a good shot, Kagan said.
However, another piece needs to fall into place, he noted. "RIM needs to have the PR push behind these products. They need to be on fire when the products enter the market."
In short, RIM needs both the technology and the frenzy that the tech community is so good at generating over certain gadgets.
At this point, it is unlikely a frenzy will burst forth spontaneously from the market for anything RIM, Kagan said. "So it has to be created by the company until the market picks up on it."
RIM did not respond to our request to comment for this story.