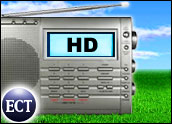 Nearly a century has passed since the first commercial radio broadcast went out over the airwaves. Aside from the invention of frequency modulation (FM) in the early 1930s and advances in recording and music playback devices, radio technology had remained much the same — that is, until the late 1990s, when iBiquity Digital developed HD radio, a hybrid system that sends out bundled digital and analog signals.
If you have not heard of HD radio, you are not alone. In development for about 10 years, the new radio technology has flown beneath the public's radar. Approved by the Federal Communications Commission (FCC) in 2002, HD radio stations have been around since 2003. However, despite a sluggish start, the time has come for the new standard to take center stage, say HD radio's proponents.
"It is the only digital technology that has been approved by the Federal Communications Commission as the improvement technology over current AM and FM," Peter Ferrara, president and CEO, HD Digital Radio Alliance, told the E-Commerce Times.
"It's moving AM and FM from analog to digital. And just like we moved from analog cell phones to digital cell phones or we went from film to digital cameras, this is radio's move to the digital space, and iBiquity Digital are the people driving that," he continued.
There will soon be some 3,000 HD Radio AM and FM stations, according to the HD Alliance.
Piggyback Ride
HD or digital radio essentially works the same as traditional AM and FM radio, with broadcasters sending out a signal on their end and listeners picking up that signal with a receiver on the other. The difference is in the nature of the signal being transmitted.
Unlike current radio signals, HD radio stations put out a mixed signal made up of both analog and digital transmissions. It uses the same frequencies allotted to analog stations, but the addition of the digital band means that broadcasters can also send out textual data, including traffic updates, breaking news and song titles.
For FM stations, the advent of digital radio brings the promise of better quality sound, while AM stations will lose their static-laden background in favor of the clarity usually associated with the FM side of the dial. Radio signals do not go through objects — rather they bounce off of them, which causes multipath distortions, noise and other interference. HD digital radio receivers provide clear sound because they have been designed to sort through the reflected signals and reduce static, hissing, popping and fades.
"The impact on traditional radio stations is that this is a big upgrade for AM and FM radio," Dave Robbins, director of digital programming at CBS Radio, told the E-Commerce Times. "It allows AM and FM radio to do a lot of different things. It allows AM to sound like FM stations and so really increases their capability. Stations that had shied away from playing music on the AM band can now play music again."
As an added bonus, radio stations can transmit multiple broadcasts. Dubbed "multicasting," it enables a station to broadcast up to eight additional "stations" on the same frequency. "When you listen to this on a digital radio, you'll be able to pick up as many additional stations as that radio station happens to be broadcasting without leaving the frequency," Robbins explained.
Like any new technology, HD radio has its pluses and minuses. One downside is that in order to receive an HD radio signal, listeners will need to purchase a new HD radio. Costs start at around US$200 for a car radio and $250 for a home stereo system. On the upside, however, unlike satellite radio and some Internet "radio" services, HD carries no subscription fees.
"The multicasting is really a benefit to the listener because now, for no subscription fee, you can hear all of these different radio stations that are being broadcast," Robbins noted.
If listeners choose not to shell out the cash for an HD radio, they will still be able to listen to regular broadcasts on standard radios, a striking difference from the push to digital television that will force standard TVs into obsolescence in 2009.
Radio Silence
Despite the promise of digital radio, uptake by both radio stations and listeners has moved at a snail's pace. Although the new standard boasts around 1,200 broadcasting converts to digital radio, that's just a fraction the more than 12,000 commercial and non-commercial stations in the U.S.
The problem is that there are two major components behind the marketing of HD radio, Josh Martin, an analyst at Yankee Group, told the E-Commerce Times. Better audio clarity, although important, is difficult to convey to an audience and does not resonate unless people hear it for themselves. The second issue, he said, is multicasting. Most people feel that traditional radio either does or does not serve their needs. Adding more channels that people are not going to listen to is not a compelling reason to buy an HD radio.
"Like [digital] TV, where you get more channels but you still find nothing to watch, part of it is a function of people feeling the market out and trying to figure it out," Martin explained.
In addition, it takes a considerable investment in infrastructure to refurbish stations and get them broadcasting with the digital radio signal, Martin pointed out. "The reality of the situation is that companies realize this is a long-term play, and it takes a huge investment to get the radio stations up and running in HD format.
"Ultimately, this is something that has a built-in market, because everyone has a radio and everyone listens to the radio. So, if it takes five years, it takes five years. It seems like something that is most likely going to happen at some point. It's just a matter of how long it takes," he added.
Future Playlist
For now, Martin said, digital radio is about having better audio clarity, additional channels other people do not have access to and cooler form factors than those available today. "The long-term play is about OEM (original equipment manufacturer) markets for cars, where the high-end market is getting these devices installed and eventually that filters out to other cars. It starts as a feature or an option, and then consumers will have it preinstalled."
In 2005, BMW became the first automaker to offer HD radios factory installed. Since then, nine automotive brands have signed on to the technology over the next few of years by offering the radios in 49 different models, from luxury brands to youth-oriented models.
The long-term vision, Martin added, is about additional value. For instance, an electronic program guide for the radio would provide travelers away from their familiar stomping grounds to look up information about what is on and what is coming up.
Conditional access is another component of HD radio that could theoretically add a pay element to the radio. Broadcasters, for example would be able to transmit a special concert or other event on a subchannel and charge people who want to tune in. Another possibility, according to Martin, is a national radio station.
"It would be an interesting solution. You'd have to have a number of sub-channels that played the same station, and then you'd have to have some sort of technology in the radio that knew that 'Station A' in this state is the equivalent to 'Station B' in another state. It's still a ways away, but that's something that would be useful in competing against satellite radio."