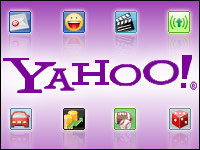 Yahoo's search for a CEO is over: The company has announced that Marissa Mayer, one of Google's most prominent executives, will take the helm at Yahoo.
Her recruitment is seen as a major victory for Yahoo, which has churned through a number of CEOs in recent years. After the company's last chief executive, Scott Johnson, stepped down under dubious circumstances, there was reason to wonder if Yahoo would be able to attract the talent it needed.
Inarguably, it did with Mayer. She has been a visible face at Google, leading several of the search engine giant's important initiatives. Most recently, she was responsible for the company's suite of local and geographical offerings for desktop and mobile, which includes Google Maps, Google Earth, Zagat, Street View, and local search. A Google executive for 13 years, Mayer's imprint extends far beyond the local category. She has been involved with Google's flagship search product, its iconic iGoogle homepage, Google News, and Gmail.
Yahoo declined to provide further details.
The Critics Gather
Mayer is going to need every bit of her experience and expertise to handle the task of leading Yahoo. The company's CEO office might as well come equipped with a turnstile considering the number of chief executives — five in the last year alone — who have come and gone.
Besides Yahoo's well-documented strategy and direction problems, Mayer will have to deal with a recently realigned board of directors and some shareholders who are more activist than is good for the company, said Trip Chowdhry, managing director of equity research at Global Equities Research.
"Once an activist investor has gotten involved in a company's management policies, he or she usually leaves the company in worse shape than it originally was," he told the E-Commerce Times.
That is the case with Yahoo now, he said. The battle between former CEO Scott Thompson and Third Point CEO Daniel Loeb weakened an already-weak company.
Leadership Bona Fides
Just because Mayer proved herself to be an exemplary executive at Google, that doesn't necessarily translate into CEO chops, Chowdhry said. "The passion, perspective and ability to lead a company are not everyday talents or skill sets. Not many people have it."
Particularly in the case of Yahoo, which has been struggling to reposition itself for years, an experienced chief is needed, he maintained.
A Fresh Approach
Mayer's reputation may be enough to overcome such objections. She has been well-respected for a long time in tech circles and has a proven record of successful product development at Google, noted Jeff Bunch, account director at Lane PR.
"I don't think anyone believes she will leave the company worse than she finds it, should she move on someday," he told the E-Commerce Times. Perhaps more importantly, her appointment appears to be a morale booster internally at Yahoo, where many of its employees have remained loyal to the company.
Excellent Choice
For shareholders, Mayer's selection should be very welcome, Daniel Ladik, associate professor of marketing at Seton Hall University.
"She has been a direct competitor of Yahoo for years, picking apart its strategies and pinpointing its weaknesses," he told the E-Commerce Times. "Her successes at Google are why Yahoo is flailing now, not counting the company's self-inflicted wounds. So who better, then, to lead the company now?"
Mayer will also be an effective face for Yahoo — better than Google's Larry Page, he added.
"Have you seen her speak? She is very charismatic," Ladik said.
Anyone who uses the Internet has reason to cheer her appointment, Bunch said.
"It's also a good thing for consumers to have more choices on the Web," he pointed out — and right now, Google is the dominant conduit. "Yahoo is strong in content verticals and targeted advertising, two areas which she should be able to exploit right away for the company's benefit."