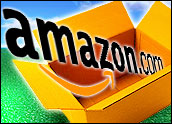 Amazon, purveyor of everything you would need for a Valentine's Day dinner — wine, food, romantic music, a DVD of Casablanca — received a lot of love from respondents to the 2013 Harris Poll Reputation Quotient study released this week; it rated Amazon the top spot among 60 of the most visible U.S. companies.
Amazon dislodged Apple from last year's No. 1 ranking with a reputation rating of 82.62 on a scale that qualifies a score of 80 and above as "excellent." The company ranks in the top five in five out of six reputation dimensions.
The report, which surveyed more than 14,000 people, says Amazon leads in emotional appeal, products and services.
How Amazon Got Its High RQ
"Finding Amazon at the top of the rankings and being driven there by the reputation of emotional appeal — from a company that has no brick and mortar, just one product line of its own, and no interaction with people — is a fairly amazing finding," Robert Fronk, executive vice president at Harris Interactive, told the E-Commerce Times.
Amazon's success with customers involves the value it places on transparency, said Tessa Wegert, digital media strategist with Enlighten and a ClickZ.com columnist.
"Its customer reviews help shoppers make informed decisions, as well as vet third-party sellers, before making a purchase," Wegert told the E-Commerce Times. "The company has even been known to purge book reviews submitted by family and friends of authors for fear of inauthenticity. Amazon wants its customers to know exactly what they're getting. Consumers respond to that."
Amazon constantly works at optimizing its site and getting its approach right "by respecting their customers, admiring them — providing them recommendations that are really fine-tuned to them without being intrusive," said Fronk. "They flawlessly execute and deliver. They make a promise — they overfulfill that promise."
Tech Rises Above Other Industries
Amazon is in good company. Technology as an industry rated well in the study: Amazon, Apple and Google all ranked in the top five.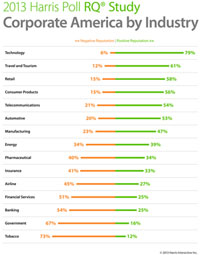 (click image to enlarge)
Technology takes the corporate spotlight at a time when confidence in corporations is at a low but beginning to rebound.
"The public seems to have become pragmatically realistic with their expectations of corporate America," said Fronk, "and we characterize this year's overall findings as the great muddling of corporate America."
It appears the public has given tech a pass, however.
The reputation of the technology industry is far and away the highest," Fronk pointed out. "The tech industry carries with it a halo. Some companies took that equity and helped it build their reputation."
Transcending an Industry
Another factor in the high ratings for technology companies may be that people regard some of them — Amazon and Google are notable examples — as spanning a large swath of personal territory.
Fronk calls it "this notion of transcending tech. They have actually gone beyond being thought of as one industry. They absorb the best characteristics of multiple industries."
Google has a range of products that go beyond its search engine. It has the Android operating system, mobile initiatives and advertising, just to name a few.
Amazon has made strides in expanding beyond its Internet retail boundaries. Thanks to the Kindle Fire and Amazon Instant Video, the company is now an entertainment content provider, noted Fronk.
It is also in cloud computing, he pointed out.
As Amazon takes on a greater number of projects outside the retail realm, it continues to reinforce its core customer service processes, said Tim Penning, an associate professor in the School of Communication at Grand Valley State University.
"I would say Amazon scored well this year," Penning told the E-Commerce Times, "by being responsive to customers — by adapting their actual process versus just communicating."