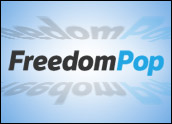 After announcing its VoIP mobile phone plan back in June, FreedomPop on Tuesday launched the service into beta, calling it the world's first completely free mobile service with free voice, text and data.
Users get a guaranteed 500 MBs of data, 500 text messages and 200 anytime voice minutes free every month for life. FreedomPop will also offer heavier users unlimited voice and unlimited texting for US$10.99 per month with no contracts or commitments
"FreedomPop's mission is to ensure that everyone has access to affordable, convenient and essential communication services," said Stephen Stokols, FreedomPop's CEO and cofounder.
A Variety of Options
Underlying FreedomPop's service is mobile Voice over IP technology. The company purchases data on Clearwire's 4G network, which is provided through Sprint. Clearwire also provides broadband data for FreedomPop's broadband service through Sprint.
If subscribers go above their allotted data, text and voice in any particular month, they will face usage fees. For a few dollars a month users can up the data allowance to a gigabyte. Two paid tier options are also available, including the $10.99-per-month plan with unlimited voice and texting.
In addition, there are allowance bonuses for subscribers who refer new users or take part in other FreedomPop activities such as promotions.
FreedomPop's Basic 200 Voice Plan comes for free with the purchase of an HTC EVO Design 12GB handset for $99. The Android handset sports a 5MP camera and a dual-core 1.2 GHz processors; it runs at 4G internet speeds. Additional handsets are expected to be offered in the coming months.
Talk Is Cheap
FreedomPop's plan is a new model for the cellular industry.
"We are the first company to offer free voice, text and data," FreedomPop spokesperson April Mayrath told the E-Commerce Times. "Right now, we are just launching with one phone, but have plans to launch the plan on several other new devices."
FreedomPop's plan won't appeal to everyone, however. Heavy users of voice, data or text are warned that some services are worth the price.
"It's basically for the user who wants to spend less, or who has to spend less, but wants a smartphone," said industry analyst Jeff Kagan.
"Traditionally smartphones are a lot more expensive than regular mobile handsets, and more expensive to use," Kagan told the E-Commerce Times.
Prepaid plans are a fast-growing segment. The major carriers offer phones under separately branded prepaid plans, according to Kagan, but the FreedomPop offering is a new option for a segment of the market.
Indeed, "for light users of mobile services, this might provide another option," Ritch Blasi, senior vice president of mobile and wireless at Comunicano, told the E-Commerce Times.
"I believe this does aid lower-income users," agreed Jim McGregor, founder and principal analyst at Tirias Research. "While the threat is always there for the potential fees, the usage bar is set for a reasonable level. Besides, if you never put your handset down, you are going to face increasing costs or service limitations no matter what service provider your use."
'A Very Selective Rollout'
FreedomPop's use of Sprint promises benefits to both sides.
"For Sprint, this allows them to pit some data traffic onto its existing 3G network, which is probably underutilized at this time," Blasi suggested.
Sprint's network won't be flooded, however. FreedomPop is pacing itself to be sure its purchased network space can handle demand.
"FreedomPop is doing a very selective rollout to areas where they have network support," McGregor explained. "So they can make the claim and likely achieve it as long as the handsets are used in the supported network regions."
Roaming, however, will be another matter, he added.
Trend Potential
If FreedomPop succeeds, there is the potential for competing freemium cellular companies to emerge. This new model will also force the major carriers to restructure their offerings.
"It is definitely another potential business model," said McGregor. "There are many business models being attempted, especially by startups, but it is too early to really determine which will last."
Still, "one thing is clear," he added: "New business models like this will put pricing pressure on the rest of the carriers."