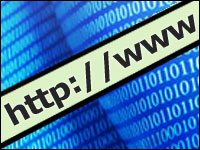 An ever-increasing proportion of the world's communications and activity occurs online, but that doesn't mean everyone has bought into the concept. In fact, a full 15 percent of American adults remain offline, according to a new report released Wednesday by the Pew Internet & American Life Project.
While a small number of the 15 percent of Americans who remain offline actually want to be online, Pew estimates that 92 percent of offline adults are not interested in using the Internet and email and won't become interested in the future.
As many as 34 percent of nonusers believe the Internet is not relevant to them, while another 32 percent say that the Internet is not easy to use. Some of those people are physically unable or are worried about threats such as spam, spyware and hackers.
Need for Assistance
Money is an issue for 19 percent of adults who remain offline because of expenses including owning a computer and paying for an Internet connection. Finally, 7 percent cited a physical lack of availability or access to the Internet.
Some offline adults have proximal Internet contact, however: As many as 44 percent have asked a friend or family member to look something up or complete a task from time to time, for example. Twenty-three percent of offline adults live in a household where there is an Internet connection that's used by someone else in the home. Some 14 percent of offline adults once used the Internet but currently don't.
A majority of those who don't use the Internet say they would need assistance to get online. In fact, only 17 percent of all nonusers of the Internet say they would be able to start using the Internet on their own; a full 63 percent said they who would need help.
'Reasons Other Than Choice'
"When asked the main reason why they do not use the Internet or email, non-Internet users give a variety of answers," Kathryn Zickuhr, research associate at the Pew Research Center's Internet Project, told the E-Commerce Times. "Among current non-Internet users, the most often cited reasons for staying offline relate to issues of relevance or usability."
Those 34 percent of offline adults who question the Net's relevance say they just aren't interested in going online or don't need to, or that they are "too busy" or think the Internet is a waste of time, Zickuhr explained.
At 32 percent, the proportion for whom usability is an issue is higher than on past surveys.
"While one of the most commonly cited reasons for not using the Internet is lack of relevance, when taken together, the majority of offline adults cite reasons other than choice," said Zickuhr. "On the other hand, most non-Internet users say they are not interested in going online in the future."
Real-World Consequences
As more business, government and community services and communications move online, there's no denying that the cost of remaining offline today is higher than it used to be.
It's not just a matter of missing out on marketing messages, bill-paying convenience and up-to-the-minute news coverage, either. Urgent and life-threatening messages are also a growing concern as emergency warning systems, such as weather alerts for hurricanes or earthquakes, move online as well, Ken Wisnefski, president and CEO of WebiMax, told the E-Commerce Times.
"I think everybody assumes that everybody is online, and that is not always the case," Wisnefski added.
In order to reach the 15 percent of Americans not on the Internet, businesses and organizations have to reach out using traditional methods, he suggested, such as billboards and other more conventional, offline communications.
"When trying to reach this type of demographic," Wisnefski concluded, "businesses are looking back 10 or 15 years."