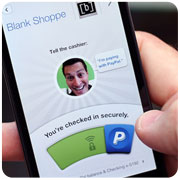 PayPal on Monday announced new technology that aims to make paying for goods as simple as walking into a store. Specifically, PayPal Beacon is a contactless payment system that uses Bluetooth Low Energy to connect with customer handsets to send offers and complete transactions.
The mobile wallet-like payment system lets consumers pay for purchases hands-free, often without standing in line or waiting. Retailers start by plugging a PayPal Beacon device into a power outlet in their store. The device communicates with registers through PayPal's point-of-sale system and a PayPal mobile in-store API that can be customized to each individual retailer.
PayPal Beacon then communicates with participating consumers' handsets via Bluetooth. Simply walking into the store can trigger a vibration or sound to confirm a successful check-in; the consumer's photo will then appear on the screen of the point-of-sale system, allowing staff to greet them by name. At the end of the visit, paying requires only a verbal confirmation.
Stores can customize programs to greet customers with special offers or coupons, and consumers can use the technology to preorder lunch, for instance, and pick it up without waiting in line by paying with PayPal mobile.
"No one wakes up in the morning and thinks, 'I wish someone invented something better than swiping a card to pay. I hate it,'" explained David Marcus, president of PayPal. "We figured the only better way to pay would be to do nothing. Just walk in a store and, like magic, when you're ready to pay, money is transferred securely."
A mobile in-store API will be made available to developers, Marcus added. Pilot tests of Beacon-enabled technologies are expected to begin in the fourth quarter, with a full rollout early next year.
'A Totally Alternative Paradigm'
Many attempts have been made over the years to enable mobile wallet functionality. Solutions along the way have come from providers including credit card companies, Square, Google and even PayPal, many of them relying on near-field communications. Many of those attempts have fallen short of adoption, however.
"Swiping is not a broken process," Greg Sterling, principal analyst at Sterling Market Intelligence, told the E-Commerce Times. "You have to create a totally alternative paradigm. Not having to stand in line — they have added a great deal of efficiency and convenience to that process."
Indeed, "overall, Beacon appears to address many of the issues and challenges that have held back digital wallet adoption," Charles King, principal analyst at Pund-IT, told the E-Commerce Times.
That said, however, "credit cards have succeeded for generations by taking complexity out of the purchasing process," King added. "As good as it may be, I don't expect Beacon to displace or replace credit cards any time soon."
In fact, credit cards are not likely to be sidestepped with PayPal Beacon, since most purchases made through the contactless payment system will likely be billed to a credit card rather than drawing from a bank account.
Local Without Location
Consumers may be able to complete transactions without lifting a finger using the new technology, but they will have to opt into the service when they enter a store or restaurant in order to activate Beacon for payment.
"PayPal Beacon doesn't track your location unlike other technologies," Hill Ferguson, PayPal's vice president of global product, told the E-Commerce Times. "If you enter a store and decline to check in, or just ignore the prompt entirely, no information is transmitted to PayPal."
There is an option to set a location to "always allow" auto check-in for a frequently visited merchant, Ferguson added.
Protections are also in place to block suspected purchases.
"If your phone is stolen and used for purchases, our automated fraud and risk management algorithms will kick in if the purchases are out of the ordinary," he explained. "Of course PayPal will protect you in the unlikely event you are left out of pocket."
'Something Interesting'
PayPal Beacon requires infrastructure both at the retailer level and on the consumer side, but getting retailer adoption will probably be the bigger challenge.
"I think the biggest challenge is to get these Beacons in stores," said Sterling. "The consumer side is easier."
On the other hand, "its primary benefit appears to be simplicity — it requires nothing more than an electrical outlet and can interact with numerous point-of-sale terminals — which is always a plus for small businesses," King noted.
The technology's photo-based verification process, however, could also help reduce fraud, King added.
"Square proved, at the very low end at least, that there is a more effective way to accept credit cards," Sterling concluded. "That then spawned other imitators, and really motivated PayPal to make something interesting."