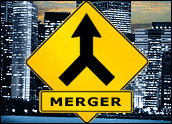 Two well-known restaurant delivery services — GrubHub and Seamless — announced plans to merge on Monday. The services enable users to search local restaurants that deliver by ZIP code and food specialty.
Combined, the companies' footprint will cover 500 cities and connect users to more than 20,000 establishments.
The combined company will likely pull in some serious revenue. Last year, GrubHub's and Seamless' online and mobile platforms accounted for about US$875 million in gross food sales to the local restaurants, with resulting combined revenue of more than $100 million for the services.
1 Company, 2 Apps
The merger of the two companies is not likely to have an impact on users. Their apps will stay separate, at least initially. The synergies appear to lie in the combination of their respective networks. The companies seem to be planning to use the resulting economies of scale to more efficiently deliver specialized products or services to users, especially corporations.
For instance, one of the benefits of the merger will come from pooling their research to streamline product development.
Upon receiving regulatory approval for the merger, the combined company's name and its marketing brands will be determined.
GrubHub and Seamless spokespersons were not immediately available to comment for this story.
Network Effect
The merger will not likely have an impact on competitors in this space, predicted John Jannotti, cofounder of Foodler.
Users are not likely to suddenly flock to the company because it is bigger, he told the E-Commerce Times. "They will continue to use one or the other, as they always have."
Also, restaurant delivery isn't the type of service that is shaped by the so-called network effect, Jannotti maintained. That is, they don't become more popular as friends in a social network adopt them.
"It is like using Travelocity or Expedia, for example," he said. "I don't know or care which my friends use. It is the same with these apps too."
An IPO
The one group that will notice the merger will be the respective investors in these companies, Jannotti said.
"I would guess that they are interested in an exit in the form of an initial public offering, and that is always an easier story to tell if a company is larger," he pointed out.
As for the combined company gobbling up market share at the expense of its competitors, Jannotti dismissed that scenario as well.
"We are all growing at a pretty rapid pace," he said. "There is room for everyone."