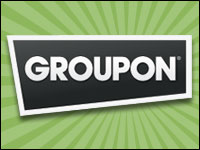 Groupon is likely to select Goldman Sachs and Morgan Stanley to be the principal underwriters for an initial public offering later this year that could value the company between US$15 and $20 billion, according to a Wall Street Journal source. J.P. Morgan Chase is expected to have a co-manager role in the IPO, and at least two other banks want to be in on the deal.
Groupon executives have not yet decided how much they would like to raise from the offering of stock to investors, but it could be as much as $1 billion, according to the Journal's sources.
The IPO is projected for the second half of 2011, potentially in the third quarter.
A Groupon public offering could be the largest IPO of 2011, but its valuation and the details of the IPO may change over the coming months. The company is facing competition from similar services, such as LivingSocial. Plus, Google is planning to launch a competitor — Google Offers.
Groupon was founded in 2008 and was one of the first companies to adopt the now-popular online daily-deal business model. Groupon employs roughly 6,000 employees worldwide. The company has 60 million subscribers in 500 local markets.
In 2010, Groupon refused Google's $6 billion acquisition offer and went on to raise $950 million in investment funding. Investments in the past have come from Lightbank, Digital Sky Technologies, Andreessen Horowitz and Battery Ventures.
Easy-to-Copy Business Model
One of the concerns that has plagued Groupon is the simplicity of its business model. Groupon requires no proprietary technology. The company's business activities can't be patented. All you need is an army of salespeople combing local markets for businesses ready to offer deep discounts to attract new customers.
"There have been concerns about Groupon's business model since the idea of an IPO came about," Rob Enderle, principal analyst at the Enderle Group, told the E-Commerce Times. "It seems like it would be easy to copy, but you have to have a competency in social networking, and that competency has been daunting for companies like Google. That has been the major challenge for companies trying to copy Groupon."
Many popular Internet services are deceptively simple. Many thought Facebook was simple, but the stickiness of Facebook has been legendary.
Just because it looks easy doesn't mean it is, Enderle noted. "We've seen Apple come out with products that don't look that difficult, yet no one else seems to be able to do it. Facebook is the same way. These products are loyalty-based, so they are difficult to duplicate."
A loyal customer base could be a saving grace for Groupon.
"There maybe enough people surrounding Groupon's service to protect it," said Enderle. "People don't like to change. Once you get used to a particular model and you trust it with your money, you're going to stay. At some point, Groupon will have enough people where you can't get the numbers to go against them."
Hot Times for Web IPOs
Internet companies are still a hot commodity, but nothing is certain as the difficult economy grinds on.
"There is evidence that the investor interest in Web-focused companies continues to percolate," Charles King, principal analyst at Pund-IT, told the E-Commerce Times.
There has been plenty of investment activity around Internet companies in the last few months, he noted, but that could be about to change.
"One of the Russian investors who has a 10 percent investment in Facebook said this week that he believes the market has become overvalued for Internet companies," said King. "So Groupon may be getting out while the getting is good."
With the economy still dicey, investors may have mixed feelings about Groupon. The company looks like boom times, but those good times may not last.
"We're in a point in the economy where things seem to be solidifying," said King, "while long-term prospects are not looking good for terrific growth. Yet it's not always a company delivering sterling business credentials that gets interest. Sometimes it's about creating buzz, and Groupon has been good at that. Facebook and companies like Groupon seem to be the engine of growth on the Internet now."