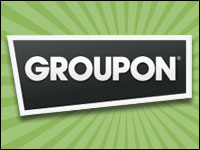 Groupon delivered earnings that pleasantly surprised shareholders. The daily deal provider reported a net loss of US$11.7 million, a huge improvement from the $146.5 million it lost a year ago in its first quarter as a private company.
It also posted stronger-than-expected revenue for the quarter, at $559.3 million — an 89 percent increase from the same period a year ago.
Improving Reputation
Despite the net loss, the results are a welcome sign of growth for Groupon, which has been under the gun for shoddy accounting practices, disgruntled participating merchants and disillusioned shareholders.
The returns also included a footnote that particularly intrigued Peter Krasilovsky, an analyst with BIA/Kelsey. Namely, Groupon provided research it commissioned from Foresee to assess merchant and customer satisfaction.
Groupon's March 2012 U.S. consumer satisfaction score of 83 placed the company within approximately two points of the five-year No. 1 average satisfaction score for online retailers, Foresee found. Its merchant satisfaction score was 79 — higher than the B2B benchmark of 64 and the Fortune 500 score of 69.
"What this suggests is that the Groupon brand is improving with both merchants and consumers and still maintains a high level of credibility," Krasilovsky told the E-Commerce Times.
Credibility is a vital attribute for Groupon, especially as it expands beyond its daily deal roots, he added. Right now, the company is experimenting with a number of different initiatives, such as mobile offerings, a loyalty program called "Groupon Rewards," and additional tools for merchants.
During the past two months, more than 30 percent of eligible daily deal merchants in pilot cities signed up for Groupon Rewards. A new merchant tool, Groupon Scheduler, attracted more than 2,500 users. Groupon also reported a strong mobile channel, with nearly 30 percent of North American transactions completed on mobile devices in April, compared to 25 percent in December 2011.
A Low Bar
It is important not to read too much into these figures, John Barrett, managing director of Cook Associates Executive Search, told the E-Commerce Times. "The only reason the results seem so good is because our expectations were so low."
The bottom line is that Groupon still hasn't proven that it has a sustainable business model that can produce attractive profits, he said.
The company is in growth mode, which muddies the waters, Barrett acknowledged. Rapid expansion makes it difficult to get an accurate picture of where Groupon's profitability will settle out. It is unclear, for instance, if profit per customer is increasing, he said.
"In fact, there is anecdotal evidence that deal quality might be deteriorating, which certainly doesn't bode well for the future," Barrett said. "Rapid revenue growth can mask some of the underlying problems with the business."
There is potential in the suite of new products Groupon has been launching, particularly the tools aimed at merchants, he allowed. Mobile couponing is another example.
"So CEO Andrew Mason is smart in moving beyond daily deals to establish the company as the operating system for local commerce," said Barrett. "The question is, can Groupon get these new products to market fast enough before the core business begins to slow down?"
The answer, in Barrett's view, is no.
Still a Young Industry
The daily deal space is still in its early stages, which makes predictions about its demise or any particular vendor's demise premature, said Limor Elkayam, founder and CEO of the Dealery.
"This is only the first few innings of the deal space, and Groupon has a good model," he told the E-Commerce Times.
Merchants will continue to participate in these sites, predicted Elkayam.
Many merchants view Groupon as a de facto marketing channel, especially smaller local companies that can't afford to spend on higher-end digital campaigns, he added. "I hear stories all the time that the only reason a business has stayed alive is because of the daily deal sites — because marketing is expensive."