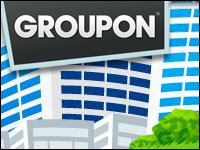 Groupon's push into mobile is firing on all cylinders, to hear the company describe its progress at the World Mobile Congress now under way in Barcelona.
The daily deal giant posted record mobile performance in North America in Dec. 2011, with one quarter of all Groupon vouchers purchased via a mobile device. Also, both consumer and merchant app usage were up significantly year over year, it said.
Groupon mobile app users tripled from last December to more than 9 million. Also, more than 12,000 partners have used iOS devices or Android phones to redeem customer vouchers and track purchases via the company's merchant app.
Groupon also pointed to its growing mobile partnerships, such as the recently expanded one with Nokia to launch Groupon app experiences for Nokia phone platforms.
A Groupon spokesperson was not immediately available to provide further details.
Mixed Messages
The company's positive news doesn't jibe with often-wary investor sentiments, however. Despite its stellar IPO performance last year, investors have been known to dump Groupon stock at the slightest whiff of trouble — for example, a routine piece of research that cast some doubt on the viability of the daily deal market.
Considering investors are looking at Groupon with more and more skepticism, the current emphasis on mobile by the company is puzzling, Peter Krasilovsky, an analyst with BIA/Kelsey, told the E-Commerce Times.
One of the products emphasized during its IPO was Groupon Now, a mobile offering that displays location-based offers in real time. Say a person was searching for a lunch deal near the corner of 18th and K Street in Washington, D.C. A deal from a nearby Starbucks might pop up, but it would perhaps be good only for the next two hours.
"It was considered the next wave for the daily deal market — potentially larger than the original email-based service," Krasilovsky said.
"Since then, they have had a wake-up call about challenges of implementing this line of business," he continued.
It still is a promising concept, in theory, but it is dependent on several trends, Krasilovsky explained — such as the ongoing penetration of smartphones among the user base. While this trend does show every sign of continuing, another necessary piece for Groupon — the advent of electronic wallets — is not quite there yet.
"Consumers will want to feel more comfortable managing and transacting these deals via their mobile devices," Krasilovsky said.
"It also requires the merchants to have the ability to process these deals," he noted. Groupon has been loaning out iPod touches to merchants that participate in the program — an initiative that has turned out to be very expensive.
For these reasons, Groupon has limited the number of markets in which it is offering Groupon Now, according to Krasilovsky. "They haven't opened a new market since July."
Groupon Now is still a compelling opportunity, he concluded — but more of a mid-term to long-term one.
Perception Problem
Part of Groupon's problem is that it is being tarred by what is happening in the daily deal market in general — namely a good bit of consolidation after the early market growth spurt, Boyan Josic, CEO of Daily Deal Media, told the E-Commerce Times.
Between June and December of 2011, some 798 daily deal sites around the globe shut their doors, Josic said — many in China.
Still, Groupon is one of the clear leaders in the space, he said.
"Right now, they have to perfect the same balancing act that all public companies do — how to push for growth while also delivering the type of numbers that make investors happy," suggested Josic.
The emphasis on mobile is a smart one, he added. "The daily deal model is evolving in that direction. Groupon is proving it with its progress on the app side."