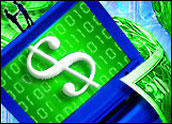 Faced with intense pressure to grow their businesses quickly, e-commerce executives have been forced to make countless critical decisions — sometimes at odds with what had once been unassailable Old Economy practices.
Some of these decisions have gone better than others, to say the least. More than 600 Internet companies have folded since January 2000, according to some estimates. In some cases, economic and business factors beyond the control of any individual management team have spurred the success of some and the downfall of others, but at other times, the destinies of Web businesses have rested firmly in their own hands.
With online enterprises confronted by as many tests as ever, the E-Commerce Times decided to take a look back at a few of the great decisions of e-commerce. The list is not meant to be all-encompassing, but simply representative of the ways some companies have risen to the challenge of doing business online.
Custom Ordering: Dell
Dell Computer (Nasdaq: DELL) launched Dell.com in 1994 and soon moved to sell computers and related equipment directly to consumers, accommodating per-order customizations in the process.
This decision was one of the key drivers of Dell's success, according to Jerry Wind, professor at The Wharton School at the University of Pennsylvania.
"Among the significant benefits to the firm are the substantial reductions in inventory, the opportunity to enhance customer loyalty, and avoidance of the pitfalls of commoditization," Wind co-wrote in a paper soon to be published.
According to Wind, Dell had inventories of $273 million on sales of $18.2 billion in 1999, meaning that inventory was 1.5 percent of sales. This helped lifted Dell past competitors like Compaq (NYSE: CPQ), which relied more on the traditional build-to-stock system, and consequently had inventories of $2 billion in 1999 on sales of $38.5 billion, or 5.2 percent.
Dr. Vijay Kanabar, associate professor of computer science and e-commerce at Boston University, agreed that Dell's just-in-time production system had a significant impact in creating model practices for e-commerce.
Amazon Stacks Brick
E-tail bellwether Amazon.com (Nasdaq: AMZN) is counting bricks as fervently as clicks these days — to its credit, according to some observers.
As recently as August 20th, the company inked a deal with Circuit City to allow in-store pickups of electronics equipment ordered at Amazon. However, Amazon made perhaps its most crucial decision when it decided last year to partner with retail giant Toys "R" Us.
Many pundits point to partnerships with brick-and-mortar retailers as necessary steps for e-tailers to survive and to satisfy investor mandates for profitability. Indeed, Wind argues in his paper that consumers are evolving as "hybrid" entities, demanding service through multiple online and offline channels.
"For its value proposition to be accepted by hybrid consumers, [an online business] needs to integrate well with its offline retail partners," Wind wrote. "A merger between retailers like Walmart and Amazon.com is not a remote possibility."
Kanabar told the E-Commerce Times that "Amazon will be a huge success if they open storefront operations at airports, malls, etc."
In his paper, Wind suggests that brick-and-mortar experience and partnerships can provide many benefits to e-tailers. These benefits include: gaining historical knowledge of the retailing domain and having access to existing market-based assets, including brands and customer relationships, that the e-tailer can leverage in the Internet marketspace. Relationships with brick-and-mortar companies can also provide larger market coverage to Web merchants because multichannel businesses are not dependent only on online customers for revenue.
Focusing on Search Goods
Many companies — most notably travel sites like Travelocity (Nasdaq: TVLY), Expedia (Nasdaq: EXPE), and Orbitz — have opted to use Internet sales channels for "search goods." Wind said that these are products that can be fully evaluated prior to purchase, based solely on descriptions, making them ideal for e-commerce.
Search products include not only travel, but also news and information services, books, music and financial services.
Conversely, "experiential goods" — those which consumers must touch and feel in order to evaluate — are more cumbersome online commodities. They include such items as apparel, groceries, electronics and toys.
Single Product Focus
Of course, sometimes the best decision is a decision not made. Keeping a laser focus on a single or a few product offerings and resisting the temptation to expand has bolstered the development of many e-tailers, like online contact lens store 1-800 Contacts (Nasdaq: CTAC).
Even though it closed at $11.94 on Monday, near its 52-week low, 1-800 Contacts stock price remains higher than its initial public offering (IPO) price. Additionally, 1-800 Contacts has no stock options underwater — when a stock price drops lower than the price at which it was issued to an employee.
Founded in 1995 and IPOed in 1998, Utah-based 1-800 Contacts stocks more than 15 million contact lenses and delivers over 100,000 every day directly to customers.