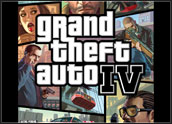 Take-Two Interactive Software is reporting record-setting sales of US$500 million for "Grand Theft Auto IV," with more than 6 million units sold in just one week.
"We knew 'Grand Theft Auto IV' would break new ground in terms of the player's experience. … Now, it has broken sales and rating records as well," said Strauss Zelnick, Take-Two's chairman.
Sales of $310M in First Day
The company sold 3.6 million units, worth about $310 million, on April 29, the first day of the game's release. The game's first-week performance was the largest launch in the history of the video-game sector, Take-Two noted.
"GTA IV" sales are astounding, said Mike Hickey, a gaming industry analyst with Janco Partners.
"This is one of the most powerful entertainment properties ever," he told the E-Commerce Times. "I'd say it is a proven franchise."
"GTA IV" is setting sales standards that far surpassed anything else — including "Halo 3," which drew in $300 million in its first-week sales, Hickey asserted. "The biggest release before it was 'Pirates [of the Caribbean: At World's End],' at about $404 million [in its opening week]," Hickey noted. "Not only is this setting records, it's crushing them. It's truly remarkable. To do a half-billion dollars in a week, if your jaw is not on the ground, it has fallen off entirely."
Will EA Upgrade Its Offer?
Sales of "GTA IV" may have game-changing implications on Electronic Arts' pending $2 billion takeover bid for Take-Two.
On April 18, EA extended its tender offer to buy the company, but lowered its bid by 26 cents per share after Take-Two shareholders voted more shares for its top management, Zelnick Media. The deadline for Take-Two to accept EA's bid at US$25.74 per share is now May 16.
"It gives them a lot of leverage," Hickey commented. "It's likely that, with the game's success, they'll raise their earnings projections, and they'll say [the current offer] is an even greater discount. This game could do $1.2 billion in sales by the end of 2009. One game that does that will likely result in a company that has no debt, a couple of million dollars in cash, a basket of other successful titles and a lot of synergy."
EA might be well advised to restructure its offer, given the success of "GTA IV." "EA, if they remain dogmatic at their bid — there's no way this deal gets done," he added, adding that the chances of the deal going through under current circumstances might be no better than 50-50.
"They really dug themselves into a hole," Hickey said of EA.
Take-Two shares were up 6 cents, to $26.41, Wednesday on the Nasdaq stock exchange. The company's stock had a year-on-year range of $11.82 and $27.61.
"I think we can learn a lot from Microsoft and Yahoo, that the eagle element can destroy a lot of potentially accretive deals," Hickey said.
Impacting Other Sales
Meanwhile, the initial splash of "GTA IV" is likely to spill over into other areas in the retail electronics business, said Michael Souers, retail analyst with Standard & Poor's.
"Obviously, there's an incremental boost to Gamestop and other retailers," he told the E-Commerce Times. "I know of people who have gone out and bought a new PlayStation 3 just to buy the game. So, there's a boost to hardware, as well."
Retailers like Best Buy, which sell "GTA IV," could see some positive gains beyond game sales, Souers noted. "There could be incremental boost to Best Buy if people go in and buy 'Grand Theft Auto [IV]' and see something else on the shelves.
"Surely, it's a strong boost for the electronics retailers in general, and proves the gaming industry, which is cyclical, is really at a strong point in its cycle right now. The cycle has been stronger and broader than anyone could have predicted," he concluded.