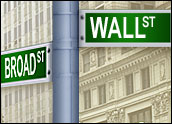 Google did not have a good day on Thursday: Its stock plunged when its unexpectedly dismal third-quarter earnings became public. Then, there was the matter of how exactly they became public.
Google's financial printer, R.R. Donnelley, posted the earnings report to the Securities and Exchange Commission website without Google's final approval, according to news accounts.
Clearly the statement was not ready for prime time: A line at the top states "pending Larry's quote."
Google and R.R. Donnelley did not respond to our requests to comment for this story.
The Numbers
Google had intended to officially unveil the earnings after the close of regular trading on Thursday. After the earnings made their surprise appearance, the company's stock dropped by 9 percent to US$676 per share; trading was then temporarily halted. A few hours later, the stock began trading again and started to climb, closing at $695.
As Wall Street's reaction illustrates, the numbers were not good — at least not compared with its earlier performance and analysts' expectations for the third quarter. GAAP net income for Q3 2012 was $2.18 billion, compared with $2.73 billion in Q3 of 2011. Non-GAAP net income was $3.01 billion, compared with $3.18 billion in the third quarter of 2011.
The report was both earlier than expected and worse than expected, said Andreas Scherer, managing partner with Salto Partners.
There was some good news, however, he told the E-Commerce Times. Google reported consolidated revenue of $14.10 billion — an increase of 45 percent, compared with the same period last year. Google does not deduct traffic acquisition costs from its gross revenue. In the third quarter, those totaled $2.77 billion, or 26 percent of advertising revenue.
Top-Line Growth
Any other company that had posted such top-line growth would be popping the champagne. However, Google has the burden of very expectations. It missed the analysts' target by $530 million, Scherer pointed out.
"The market has hoped that they would report earnings excluding items of $10.65 a share," he noted. "They didn't."
Still, there is growth, Scherer said. "The company is operating relatively well in a slow macroeconomic environment."
Nevertheless, it's apparent that Google is clearly feeling the heat. First, the company revealed that its average cost-per-click declined 15 percent compared with the third quarter a year ago, Scherer pointed out.
"This is a key metric to watch since it is core to Google's business and income potential," he explained. "Click prices have been under pressure for a number of quarters. It's in Google's best interest to stop this trend."
Second, Google has to absorb operational losses from Motorola Mobility, noted Scherer. "Investors hope that this will be only a temporary phenomenon as executives are working hard to turn this business unit around."
3rd Month Was a Killer
Google's shareholders might take some comfort in the fact that the company is not the only one that took on water in Q3. HP, IBM and Intel all had disappointments in their earnings releases, said Trip Chowdhry, managing director of equity research for Global Equities Research.
"Our research shows that for Google, the first two months of the quarter were very strong," he told the E-Commerce Times, "but it ran into trouble, like the other firms, in the third month of the quarter."
Google is not immune to macroeconomic headwinds, and we ca expect more in the coming months, Chowdhry said.
In the long-term, though, Google is solid, he added. "Its mobile monetization is going well. Android market share continues to grow exponentially. Google, like everyone else, will just have to navigate the next few months."