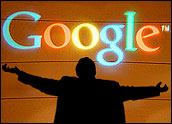 Google said Tuesday that it plans to buy Global IP Solutions, a company that provides processing capabilities and other video and Voice over Internet Protocol services to companies such as Yahoo, AOL and WebEx.
The US$68 million deal, contingent on shareholder approval, represents a 142 percent premium over the closing price of GIPS stock the day before it announced it was being courted by a then-unannounced suitor.
What' Next?
What Google plans to do with GIPS is unclear, said telecom analyst Jeff Kagan, but it' almost certainly something big and as-yet unenvisioned.
"If I were to guess, which is all I can do at this point, I would say it looks like Google is putting a very large opportunity together one little piece at a time," he told the E-Commerce Times."GIPS will allow Google to deliver real time audio and video over the IP network. How will Google use this is the question."
Previous Forays
Google has been strengthening its presence in the VoIP area for a while now, having acquired the telephony service Grand Central in 2007 and Gizmo5, which provides Internet calling software for cellphones and PCs, in 2009.
Among other things, GIPS makes VideoEngine and VoiceEngine for mobile, which give developers tools to more easily build voice-processing technology into their applications for the Android phone and other platforms.
That expertise could be helpful as Android faces a probable assault from what is widely expected will be a front-facing camera equipped iPhone 4.
Taking On Skype?
Many press accounts on Tuesday focused on the potential that Google purchased GIPS to take on Skype, which recently announced an upgrade to its video-conferencing abilities. Despite the speculation, Google just doesn't have anything to say publicly yet, spokesperson Andrew Pederson said.
"Since we've only just signed the deal, we don't have any specific product plans we can share," Pederson told the E-Commerce Times.
The likely reality, Kagan said, is that the acquisition will involve Android, some sort of competition to Skype, and more.
"I think we are watching the egg crack, and we are not quite sure what will come out — but if we have learned anything by watching Google, I would bet it is a huge entity that we don't recognize yet," he said.
Google is already a GIPS customer, as are Nortel, Oracle, Samsung, WebEx, Yahoo and AOL.
Some of GIPS' customers directly compete with Google, and it' unclear what might come of them.
Existing customers can expect to be "fully supported while we continue to enhance and extend our products and technology at Google," said GIPS CEO Emerick Woods.