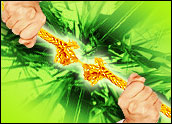 A war of words continues between executives at tech giants Google and Microsoft as accusations regarding patent bullying fly between the companies.
The public dispute began Wednesday, when David Drummond, the chief legal officer at Google, posted a company blog missive accusing Microsoft, Apple and Oracle of excluding Google by banding together to buy "bogus" patents in a direct attack to the Android platform.
In turn, Franks X. Shaw, Microsoft's head of corporate communications, countered by publishing an e-mail exchange between legal teams at Microsoft and Google from several months ago, just before the sale of certain patents by Novell. In the e-mails, Microsoft invites Google to join in a shared effort to buy the patents, and Google refuses.
Drummond didn't back down from his accusations after the e-mail was produced. Instead, he claimed Microsoft was attempting to skirt around the patent issue with a "false gotcha" moment and that the initial correspondence between legal teams had been a trap set by Microsoft.
"Making sure that we would be unable to assert these patents to defend Android — and having us pay for the privilege — must have seemed like an ingenious strategy to them. We didn't fall for it," replied Drummond in an updated version of the blog post.
Next, Shaw took to Twitter to assert that Google wanted the Novell patents all to itself and that's why it didn't take Microsoft up on its offer to go in on the patent acquisition.
Google did not respond to the E-Commerce Times' requests for further comment.
Tech Giants Elbowing for Patent Protection
This particular tit-for-tat seems somewhat moot now, since the Department of Justice had already intervened and forced Microsoft to sell the patents and give a license to the open source community. But the very public attacks are an indication of how much is at stake in the competitive mobile marketplace and the ever-dirtier patent battles brewing between tech giants.
Legal counsels often advise their clients to stay mum while pending litigation is going on, so there was some surprise within the industry that the head of very high-profile legal team took to the Internet to openly criticize his opponents.
But keeping arguments confined to the courtroom isn't always the wisest choice, especially when the issue at stake is one that's being hotly debated in public — in this case, patents.
"Now more than ever, millions of people are having the discussion with you or without you. So it makes more sense when you've got billions of dollars at stake to get your point of view heard so developers and investors don't lose confidence," Ron Coleman, partner and head of the intellectual property department at Goetz Fitzpatrick, told the E-Commerce Times.
There are two groups of people that tech companies are speaking to when they take to a public forum, he said.
"These companies are talking to at least two other constituencies whose take on the litigation matters a lot. The first is consumers, who have to decide whether or not they want to buy something that might be illegal in some time," said Coleman.
Companies want to raise consumer confidence levels enough that if a patent matter comes to litigation, consumers won't expect that a product will be scrapped altogether, only that the companies involved will eventually come to a settlement, he said.
The other group companies like Google want to make sure are on board are mobile developers.
"At least as important, if not more so, are the developers and innovators in the tech community," Coleman said. Google doesn't want to see developers fleeing Android, and it wants phone makers to continue to build large numbers of Android handsets without fear.
Another other issue is the incredible amount of money and investments that rely on a healthy patent.
"If you consider the stakes just in terms of the competition amongst Android, iPhone and [Windows Phone], the ability to shut a competitor out of even a tiny fraction of the market because you hold a blocking patent could be worth millions and millions of dollars," Doug Panzer, associate at Caesar, Rivise, Bernstein, Cohen & Pokotilow, told the E-Commerce Times.
Only the Beginning
Patent dramas like this one could become a common part of the mobile device landscape in the years to come.
"It may very well be a sign of where patent strategies are headed for the biggest of the tech behemoths. There's an incredible amount of money at stake here," said Panzer.
Those tech behemoths are making the patent game as cutthroat as the rest of their industry, and although some legal strategists like to point out that the patent was originally designed to give the little guy a fighting chance, Coleman says that idea isn't practical.
"I think the idea that patents are meant to protect the humble investor in the garage is a little bit romantic and unrealistic. We want people to humbly invent the paper clip, but we also want people to make massive investments and create really significant technology that have broad applications, like an operating system. With this kind of stuff, compared to something like a pharmaceutical, the discussion is going to be much more public," said Coleman.
In response to these growing issues, companies are buffering their patent portfolios and expanding their legal prowess for the inevitable litigation as consumers and workers in the tech industry watch the bickering and drama unfold.
"For now, we keep watching and wait for the next shoe to drop — whether it's a blow to one side's ability to compete in a particular market, a drama of patent litigation or invalidation, a legislation push or something completely different," said Panzer.