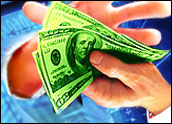 Google is nixing its free product search model, opting instead to charge merchants and retailers to appear in Google product search listings.
Currently, retailers can provide information about their products and then add them to the search listings for free, where they are ranked by popularity and price. Under the new model, dubbed "Google Shopping," retailers will be required to pay in order to appear in search results.
Rankings will then be determined by merchant bid price in addition to relevance. The products will appear in Google Shopping boxes, which will feature the paid search results in "sponsored" boxes above the regular search results.
Google Shopping is currently in an experimental phase and will be complete this fall. The search company hopes that maintaining a commercial relationship with retailers will help them keep their product listings up to date. Fresh and accurate search results will lead to a better online shopping experience for consumers and consequently more revenue for merchants, wrote Sameer Samat, vice president of product management for Google Shopping, in a blog post Thursday.
Google didn't respond to our request for additional comment.
Boosting Profits
In addition to creating what Google says will be a better experience for both merchants and shoppers, the new model could also boost Google's profit margin.
"Based on our clients' results, we would expect Google Shopping to increase Google's paid click total in the neighborhood of 2 to 5 percent over the long term. That's not a huge percentage, but it would ultimately mean billions more in revenue for Google," Mark Ballard, senior research analyst at Rimm-Kaufman Group, told the E-Commerce Times.
Profit is likely to come without many complaints from retailers, Ballard said.
"The reaction from our retail clients has been more positive than I expected," he said. "While no one is happy about having to pay for traffic that we were previously getting for free, a number of retailers have expressed optimism that the change will help fight price erosion and eliminate low-quality merchants who turn customers off from the entire comparison shopping channel."
The updated business model could even help merchants' bottom lines in addition to Google's, Rob Abdul, an e-commerce consultant, told the E-Commerce Times.
"I'm sure to offsetting the cost of a paid placement with a larger number of click-throughs will balance out the books," he said.
The retailers this move might hurt are the smaller ones, Ron Rule, vice president of e-commerce for Infusion Brands, told the E-Commerce Times. While larger retailers such as Amazon, Target and Walmart can already offer competitive pricing and have the budget to boost advertising and search placement, smaller brands that might have lucked out with free Google product search offers could struggle under the new model, he said.
That may not necessarily be bad news for consumers.
"It's the smaller websites, primarily those who carry no inventory and sell through drop-shippers, that will be hurt by the change," he said. "But that's not necessarily a bad thing for buyers — as it stands, Google shopping is fairly easy to manipulate, and I've often searched for a product and landed on an 'out of stock, consider these instead' page. I suspect a lot of those never even had the product for sale and were simply looking to capitalize on searches for a major brand's name so they could offer a lower-priced alternative."
Keeping It Fair
Google has already faced criticism for its general search rankings, and having retailers pay for a spot in Shopping might raise more eyebrows among regulators, said Ballard. However, the distinction between Google Shopping products and other search results should help Google's side if a legal argument should arise.
"It seems that the federal authorities themselves aren't sure how search engines like Google should be regulated, but one key concern is that paid results be distinguished from the organic or algorithmic results," said Ballard. "This change will probably raise another round of questions about Google, but as long as they clearly label Google Shopping results as sponsored links, as they intend to, I believe they will be in the clear."
Google could also likely argue that under the new model, anyone has the chance to compete, said Abdul.
"I believe this is Google trying to even out the playing field between small and larger online retailers to compete fairly," said Abdul.