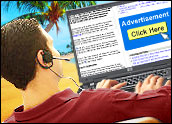 Google is moving to settle a class action lawsuit alleging widespread click fraud on its paid search network, setting aside US$90 million to repay advertisers who can prove they fell victim to the practice during a four-year period starting in 2002.
The payouts would take the form of account credits which could be used to purchase advertising space from Google. In order to qualify, advertisers would have to demonstrate that they were improperly charged for click-through ads during that period.
Credits Offered
The proposed settlement would remove Google from a case that was initially brought by Lane's Gifts and Collectibles against Google, Yahoo, Time Warner and America Online.
Google disclosed the potential deal through a statement on its official blog from Nicole Wong, the company's associate general counsel.
"We've been discussing the case with the plaintiffs for some time and have recently come to an agreement with them which we believe is a good outcome for everyone involved," Wong wrote. She noted that the details are confidential, but said the main facet of the deal would be to remove the 60-day time limit for notifying Google of potentially fraudulent charges.
"Under the agreement with the plaintiffs, we are going to open up that window for all advertisers, regardless of when the questionable clicks occurred," Wong said. "For all eligible invalid clicks, we will offer credits which can be used to purchase new advertising with Google. We do not know how many will apply and receive credits, but under the agreement, the total amount of credits, plus attorneys fees, will not exceed $90 million."
The deal would come at a time when click fraud is increasingly being cited as a major risk factor for Google, its competitors and the paid search and pay-per-click advertising industries as a whole. Estimates have varied widely as to how prevalent the practice is of having paid third parties or computer programs click links that unfairly trigger payments. Figures cited range from 10 percent to as much as 50 percent of all clicks registered via pay-per-click advertising.
Fight or Flight
A report released last month by the Search Engine Marketing Professional Organization (SEMPO) found that 40 percent of advertisers and nearly half of the advertising agencies surveyed have tracked fraud in their clicks, 16 percent called the problem "serious," and three times as many said the same thing late in 2004.
The group's "State of Search Engine Marketing" survey also found that a third of all advertisers using pay-per-click do not have systems in place to track fraud, potentially allowing the practice to go unnoticed in many cases.
"Network click fraud is a threat to the increasing value of search engine traffic and represents a significant hurdle to the growth of Google and Yahoo's traffic," said Kevin Lee, a member of the SEMPO Board of Directors. "Control of the click fraud problem is critical, for both marketers and publishers."
One difficulty in stemming click fraud is identifying the source, Lee noted. Half of those in the survey who said they'd been victimized blamed competitors for the clicks that drove up their advertising bills. About the same number said they believed network operators or affiliates were to blame.
Hits Keep Coming
Yahoo, which is also named as a defendant in the Arkansas-based class action case Google is seeking to settle, has said it would fight the lawsuit.
It's not clear whether the settlement would prevent any additional actions from being filed covering the same time span, something Google is no doubt fighting hard to have worked into the settlement language.
The proposed settlement suggests "the case had some teeth," said Kelsey Group Managing Director Greg Sterling.
"Google clearly has the resources to fight the case to the end," he said. "This is not a nuisance settlement at this dollar level."
Given the time frames involved, some advertisers may have trouble proving they were victims, which may keep the costs to Google down, Sterling added.
That may be especially true of older claims. More recently, many services have sprung up to help advertisers spot click fraud by analyzing Web traffic.
No Motivation
Skip Pratt, the general manager of PPC Trax, which offers a pay-per-click campaign tracking program, said publishers such as Google and Yahoo have not taken aggressive steps to contain click fraud.
"They don't have the motivation to really take it on," Pratt told the E-Commerce Times. Publishers often know about click fraud before advertisers, he noted. In fact Google has been known to offer refunds or credits to advertisers because of the practice even without being asked to do so.
"As keyword pricing continues to go up, the motivation to commit fraud increases, but the drive to stop it doesn't," Pratt said.
For Google, meanwhile, the admission of potentially widespread click fraud is just the latest in a series of moves that have raised questions for many about the company. Google shares fell again Thursday on the news of the settlement, trading lower by $4.47 or about 1.2 percent by midday. In the past month, Google's stock has been hammered by an earnings miss, comments about slower growth from the CFO, and the disclosure this week that some internal financial forecasts had mistakenly been posted to the Web.