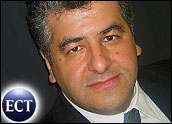 On November 15, Google filed a lawsuit against Texas-based Auctions Expert International (AEI) for engaging in "click fraud" and attempting to force Google's advertisers to pay for fraudulently generated clicks.
Google claims, among other things, that AEI constructed its Web site with the sole purpose of generating false clicks and collecting advertising fees. More particularly, Google accuses AEI of abusing Google's AdSense program, in which online publishers display Google's pay-per-click ads and then receive a portion of the proceeds.
Most search engine advertising programs, including Google's, operate on a cost-per-click model whereby they charge advertisers based on the number of clicks the text advertisements receive. Google allows advertisers to bid for placement of paid links that appear when certain key words are entered on its sites.
However, the cost-per-click model is subject to abuse by those who engage in click fraud to generate invalid clicks. Potentially, click fraud could have severe consequences on advertisers by evaporating their marketing budgets in a very short time period.
Click Fraud Methods
Click fraud can be initiated through an automated click generation method or by human beings. A common method is by using online robots, or "bots," that are programmed to click on advertisers' text links that are displayed or listed in search queries. Another method is to employ low cost workers — which is being done in India and China and other low-wage countries — to click on text links and other Internet advertisements. A third method can be executed by employees of rival companies who click on competitors' ads in the hope of exhausting their marketing budgets.
Although click fraud has been happening since the cost-per-click pricing model was implemented, it has only recently received a lot of attention. This is due to, among other things, online advertisers becoming more sophisticated with respect to the cost-per-click pricing model. Another reason for the increased exposure relates to the greater competition for desirable keywords, which has resulted in a marked increase in the price paid by some advertisers for certain keywords, which in turn has resulted in a substantial increase in the overall cost of per-click programs for most advertisers.
The problem is quite serious as the cost for advertisers can be relatively high in some sectors. In some sectors, such as travel or legal, it could cost advertisers several dollars per click.
Interestingly, some advertisers have not pushed the issue with search networks out of a fear of jeopardizing their relationship with them. It is impossible to measure with accuracy the extent of click fraud. However, some estimates put it as high as 50 percent of total ad clicks.
Technologies that measure click rates have been developed to curb the trend of click fraud. For example, Whosclickingwho.com sells technology to examine click rates and sales that result from paid searches.
Patterns Detected
A fraud-detecting technology or tracking system that analyzes Web traffic logs or surfing behavior will attempt to detect consistent patterns of behavior over a period of time. For example, if a page is turned every 1.5 seconds over a period of time, the traffic might be flagged as suspicious.
Google also has its own technology that purports to detect and eliminate this kind of fraud. Steve Langdon, Google's spokeman, stated, "this lawsuit against Auctions Expert demonstrates the success of our anti-fraud system and that we will take legal action when appropriate." However, others have commented that the lawsuit is evidence that Google's fraud-detection technology is not as fool-proof as Google would have its advertisers believe.
With the ever increasing amounts of money being spent on per-click advertising and the great potential for abuse inherent in the system, it is safe to say that this lawsuit is the beginning of what is likely to be a host of other lawsuits relating to this topic.
---
Javad Heydary
, an E-Commerce Times columnist, is a
Toronto lawyer
licensed to practice in both Ontario and New York and is the managing editor of
Lawsof.com
.
---