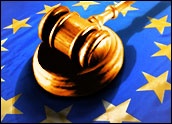 EU regulators are seeking feedback from Google's rivals and other third parties on the company's latest attempt to settle antitrust allegations against it in Europe. If the company can come to a settlement, it will avoid the expense of a messy trial as well as a possible US$5 billion fine.
To settle the affair, Google has offered to reduce what it would charge rivals to show their links in specialized search queries to 3 euro cents per click from 10 euro cents per click, according to a Bloomberg report quoting an unnamed European Commission official. Users would also have the option to hide these alternative search sites.
Google would also relax rules preventing advertisers from moving their campaigns to other platforms and give rivals more control over what Google can scrape from their websites.
In addition, Google will appoint an independent trustee to monitor the process over the next five years.
Google first proposed a settlement to the three-year investigation in April, but rivals rejected the offer. This is the second attempt by Google to put this issue to rest.
"We've made significant changes to address the EC's concerns, greatly increasing the visibility of rival services and addressing other specific issues," Google said in a comment provided to the E-Commerce Times by spokesperson Niki Fenwick. "Unfortunately, our competitors seem less interested in resolving things than in entangling us in a never-ending dispute."
The EU has sent Google's latest offer to all the organizations that responded to the first one; they now have four weeks to respond.
Continuing Pushback
Rivals' initial responses to this latest proposal appear to be negative, according to news accounts. Many claim that this latest overture is not materially different from the offer Google made in the spring.
It is not surprising that rivals are pushing back against Google as hard as possible, Peter Toren, a partner with Weisbrod Matteis & Copley, told the E-Commerce Times. "These companies, after all, don't represent the public — they represent their own interests, which is to make life as difficult as possible for the 600-pound gorilla in the room, which is Google."
However, it is up to the Commission to weigh the companies' responses critically, Toren added: "It is in everyone's best interest to settle — the cost of litigation is high for both sides, and the legal proceedings would take years."
The Commission does give a lot of weight to rivals' opinions for companies that come under investigation, Ryan Radia, an analyst with the Competitive Enterprise Institute, told the E-Commerce Times.
"That said, antitrust regulators do understand the fact that rivals' incentives do not always align with those of consumers," he said. Complaints by rivals, in short, he said, "shouldn't necessarily be seen as a sign the settlement is not going far enough."
"I expect that Google will be able to put this issue behind them eventually without having to fully cede to rivals' demands," Radia said.
No Choice
Yet Google doesn't have much leverage in the process, Keith Hylton, a law professor at Boston University, told the E-Commerce Times.
"I think Google will keep offering concessions until it can get a deal done," he said. "If Google does not settle, the next step is a formal 'statement of objections' by the European Commission, followed by a finding of a violation, followed by a fine up to 10 percent of Google's revenue."
Europe takes a very different approach to antitrust than the U.S. does, Hylton pointed out.
"The FTC settled its case with Google, even though rivals weren't happy at all," he recalled. "The reason is that the FTC concluded that it did not have a strong basis in American antitrust law for pursuing its case further. In the EC process, by contrast, the Commission tends to continue to pursue its case until it reaches a deal that satisfies rivals."