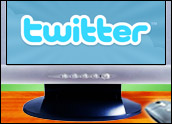 Google and Microsoft are reportedly in separate talks with Twitter with the goal of licensing the microblogging site's rich store of data. The talks were first reported on the Wall Street Journal's All Things Digital Web site.
The three companies did not return calls from the E-Commerce Times in time for publication.
As buzz grew over the news of the potential deal on Thursday, Twitter was once again laid low by a service outage. Users were still able to tweet, but they could not see real-time updates — which is the heart of the service.
Twitter went offline several times this summer due to denial-of-service attacks.
Validation for the $1B Valuation
The potential deal structures could be anything from up-front payments to revenue-sharing schemes, according to All Things Digital.
Such a deal would represent Twitter's first significant source of revenue — apart from the significant funding the site has received — since its inception.
It would also validate Twitter's recent US$1 billion valuation — a sum that critics view as outlandish, considering the service's lack of revenue.
For their part, Google and Microsoft could receive access to a treasure trove of data. For Microsoft in particular, with its recently launched Bing, it could mean an important leg-up in the search engine wars.
"These sites are most interested in what people are talking about," said Dan Rayburn, principal analyst in Frost & Sullivan's digital media practice. "What are the hot topics of the moment?"
Twitter, it hardly needs to be said, has become a major repository of such real-time conversations.
Tweets could be organized into search topics, Rayburn suggested.
Beyond general ruminations, though, it is difficult to say exactly how Google and/or Microsoft would leverage a data mining license, Rayburn told the E-Commerce Times. "Fact is, no one knows what they are thinking or planning."
Plethora of Possibilities
It's possible Google wants to launch a similar service as part of its ever-growing portfolio of free apps, Ken Saunders, president of Search Engine Experts speculated.
"Google has a lot of applications that it does not charge for," he told the E-Commerce Times.
Admittedly, such a possible use is a long shot, he added. "Twitter hasn't figured out how to monetize itself, so why would Google?"
It's also questionable how seriously Microsoft is considering a deal with Twitter.
"I would guess Microsoft is involved either because it has gone into reactionary mode, or because it wants to drive up the price for Google," Saunders said.
Being able to better target advertising is another reason Google and Microsoft might be intent on licensing the technology, suggested Jeffrey Johnson, a partner with Pryor Cashman.
Licensing the technology to offer a similar service, if that were the goal, would most likely be a white label type of arrangement, he told the E-Commerce Times.
Bubbling Trends
Whatever form a licensing deal might take — and for whatever purpose — the transaction would sit nicely on top of several bubbling Web 2.0 trends, starting with the microblogging frenzy led by the seemingly unpierceable Twitter.
In addition to last month's $100 million in funding, which led to its $1 billion valuation, investors pumped $35 million into the phenom in February.
There is also Google's dominant position in the search engine market to consider, along with Microsoft's attempts to erode it. Although the early boost its competing Bing search engine received may be leveling off, it is robust enough to give Google some competition.
Microsoft's search engine advertising partnership with Yahoo will provide an additional assist when it is implemented — as would, presumably, data and technology licensed from Twitter.