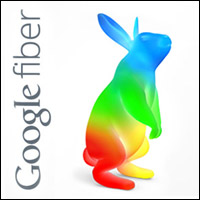 Google has revealed plans to expand its Google Fiber Internet service to as many as 34 new cities.
Google Fiber offers connection speeds of up to 1,000 Mbps — around 100 times faster than the average U.S. speeds of 9.8 Mb/sec, according to Akamai — by providing service through fiber-optic cables instead of copper wiring.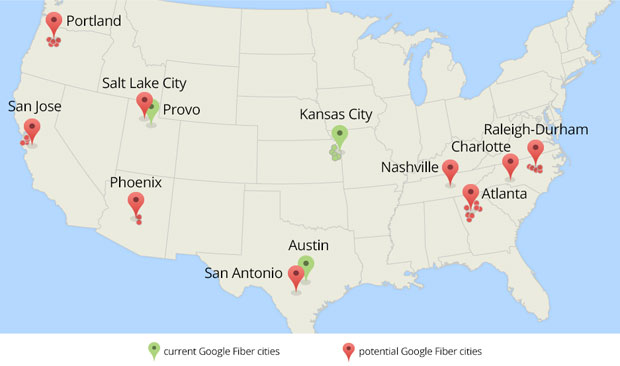 Google's service also delivers high-definition television with the additional bandwidth allowing DVRs to record up to eight programs at once. Customers have access to 1 terabyte of cloud storage across Google's products.
Google currently is working on bringing access to residents in Kansas City; Provo, Utah; and Austin, Texas.
Metro Areas
Google has invited cities from nine metro areas around the U.S. to explore the viability of Google Fiber in their communities: Atlanta, Ga.; Charlotte, N.C.; Nashville, Tenn.; Salt Lake City, Utah; San Antonio, Texas; Phoenix, Ariz.; Portland, Ore.; Raleigh-Durham, N.C.; and San Jose, Calif.
The company is working with leaders from all cities in those areas on a two-part joint planning process. The cities will complete a Google checklist that provides the company with information on infrastructure. Google will expect the cities to streamline planning processes and infrastructure access to speed up the construction process.
Infrastructure Concerns
Meanwhile, Google will examine costs and time lines for installing a fiber-optic network in each city. It will look at factors that affect construction plans, such as geography, housing density, and the quality of the infrastructure.
Other factors, such as "support by local government, how centralized the population is, how strong the primary telephone and cable carriers are, and how close the city is to existing Google Dark Fiber," may influence Google's decision, according to Rob Enderle, principal analyst at the Enderle Group.
Google Fiber "will force existing carriers to lower prices to compete and make the city a more desirable place to live," Enderle told the E-Commerce Times.
Potential Return
"It's all about the potential return," Jim McGregor, principal analyst at Tirias Research, told the E-Commerce Times.
"Like any business, you need to consider the potential customer base, competition, pricing, etc. However, another key consideration is the ability to acquire, lease or install a network. Putting new fiber in can be a very difficult in many cities," he explained.
"I live one of the largest cities in the U.S., Phoenix, and [one of] the newest metropolitan areas, but my local government will not allow service providers to dig up the roads any more to install new fiber," McGregor pointed out.
"It looks like the locales are either central telecom hubs or places with a large IT industry presence," Charles King, principal analyst at Pund-IT, told the E-Commerce Times. "That'd make sense both from a supply & demand standpoint."
Google expects to announce by the end of this year the next swath of cities that will receive Google Fiber services. It also plans to share what it learns from conducting studies in those 34 cities.
Long Wait
Google first announced the project in 2010, and it has not yet rolled out access to the service in its initial three cities. That points to a long wait for the 34 cities included in the current study before they have much faster Internet access.
Google would need to do a lot of planning "before we could even make an educated guess," spokesperson Jenna Wandres told the E-Commerce Times.
Customers in Kansas City and Provo will pay US$120 per month for Internet access plus more than 120 HDTV channels. Full-speed Internet access alone costs $70 per month. Customers have the option to pay a connection fee ($300 in Kansas City and $30 in Provo) for free basic Internet access at speeds of up to 5 Mbps download and 1 Mbps upload. Connection fees are waived for Kansas City customers subscribing to one of the premium plans.
It's too early to say whether pricing would be similar in the new cities, Wandres said.
Privacy Concern
While increased Internet speeds will be an enticing prospect to many, some potential customers may be concerned for their privacy, given Google's history of mass data collection.
"Google lives off of mining user information, so privacy would likely be sacrificed and Google would have the capability to massively influence elections as a result of the information they gain access to," Enderle suggested.
"Cable companies and major telcos are increasingly attempting to treat Internet provision as a toll road, where the cost of service depends mainly on bandwidth consumption," Pund-IT's King said. "For them, Google Fiber is likely a major threat, as are regulations aimed at preserving network neutrality. For end users — whether they are consumers or businesses it should be mostly all good."