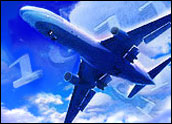 Travelers searching for flights can now look to Google. The search engine giant released its Google Flights feature Tuesday.
Flights and travel packages were previously one of the few queries Google couldn't answer as quickly or thoroughly as its travel search competitors such as Kayak, Expedia, Orbitz and Hotwire, so in April it acquired ITA Software for the data and algorithms needed to complete efficient flight searches.
Google's US$676 million investment almost didn't pay off. The acquisition was opposed by search competitors and investigated by federal authorities on antitrust grounds. However, the deal was ultimately approved, though it was tied in with provisions for existing ITA customers such as Kayak, Microsoft and TripAdvisor. In the months since ITA closed, the company has been working on integration to the Google platform.
The feature is limited to select U.S. cities for now, but it promises to integrate more domestic and international destinations going forward. Other search elements include the ability to search based on the cheapest or quickest flight from a certain destination and suggestions on when to travel if the user has a flexible schedule.
Google declined the E-Commerce Times' request for further comment.
Potential Threat
The combination of Google's speedy, user-friendly infrastructure and the precise results of ITA Software were rightfully scary to travel search competitors. A travel component is one part of the search puzzle that Google has until now lacked, and it's a feature that's been particularly successul with Microsoft's search engine, Bing. The all-encompassing travel packages are one of the oft-cited reasons that Bing has been able to slowly but steadily expand its search market share in Google's shadow.
Although Bing has advantages in other search features, some competitors such as price aggregator Kayak or travel search engine Expedia are purely travel search sites and may have a tougher time competing.
"We recognize Google is a formidable competitor, but they haven't been successful in every vertical they've entered," Robert Birge, chief marketing officer at Kayak, told the E-Commerce Times.
Travel sites often take several seconds to process querries and display a list of results. Google has often pushed for speedier results in its search properties, and it appears its new Flights feature is able to deliver results relatively quickly.
"I think it's going to be problematic for some other sites. Google understands user interface, and they tend to come back with much quicker results. The thing they do really well is aggregate and search quickly, and I think that will make this successful," Zeus Karravala, senior vice president of global enterprise and consumer research at The Yankee Group, told the E-Commerce Times.
Google also has the advantage of being one of the most trusted genearl search engines on the planet, so much that the word "Google" is often used as a verb interchangeable with searching. If users already use Google for everything else, it's likely that they'll also use it for flight searches when they can.
"The beauty of Google travel is that many people out there start their days with Google.com. We use Google on an everyday basis for so many other things that this just makes it a natural fit to what Google does," said Karravala.
Still, competitors hope to keep up, counting on experience and a loyal user base to stay in business.
"We're confident in our ability to compete, and we believe our flight search technology is superior. We use multiple data sources and proprietary technology, all of which helps us in our efforts to provide people with comprehensive, fast and accurate answers to their flight search needs," said Birge.
Back to Basics
The launch comes the same day Google's search marketshare dipped below 65 percent for the first time in many years, with competitors Bing and Yahoo gaining ground on the leader. While Google has been dipping its toes in other pet projects, features and investments for a while, moves lately tend to focus more on its core search abilities.
Google cofounder and CEO Larry Page famously said there would be "more wood behind fewer arrows" earlier this year when he took on the chief executive role at the company he helped create. Since then Google's axed unpopular and unprofitable services such as Google Health and Google Power Meter. Google Labs was also cut, although the company says it still rests on a spirit of innovation.
The rollouts of Instant Pages in June, and now Google Flights, are examples of the company creating streamlined approaches toward search development and revenue building.
"Google has always had their hands in a lot of different pots, and very few of those pots actually have money in them. Travel does have a lot of money in that, and this is making a good move for them," said Karravala.