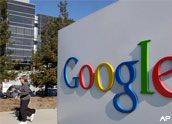 What is the most important factor that will influence executive pay and hiring in the technology industry this coming year? Is it globalization? Data management? Business process improvement? No. None of the above. It's Google. Failure of a company to factor in how Google will influence its own bottom line could well lead to its premature demise, according to a new survey just released by New York City-based headhunting firm Christian & Timbers.
"If your company does not have an eye on Google or globalization, your company won't make it to 2010," Umesh Ramakrishnan, vice chairman of performance-based executive search firm Christian & Timbers, told the E-Commerce Times, "and the executives who understand these dynamic market forces are in high demand."
Hot Jobs
The hot tech executive jobs for 2006, according to the 11th annual survey, a copy of which was provided to the E-Commerce Times, are as follows:
Corporate strategy director for Web-oriented company
Vice president of R&D for Web-oriented company
Chief strategy officer
Global collaboration executive
These positions will be in demand for a number of reasons. The survey notes that Google shares topped US$400 last year, as the company's strategy evolved from search to content control and delivery. In doing so, the company added one of the world's foremost visionaries, Vint Cerf, and took on Microsoft as the place for innovators to make their careers. "It is 1999 all over again, only at Google," said the survey. "As a result, competition for talent and control of content, search and connectivity technologies is at an all-time high."
What is more, the survey said, the globalization of the economy is accelerating and creating greater demand for talent who can help grow a company's worldwide presence, both on the buy and sell side.
Additionally, the Indian Information Technology association, a trade group, predicts that India's IT and business operations outsourcing will hit $50 billion by 2008. Global partnerships, sales and marketing, manufacturing and vendor-supplier relationships with these companies are creating "borderless entities," the Christian & Timbers survey said. "These organizations will need executives who can bring experiences and vision to keep the borderless entities sharp, strategic and nimble."
Additionally, there is a call for other new executive positions, including chief security officer and disaster recovery analyst and engineer.
"Whether for natural — hurricanes, earthquakes — or man-made — terrorist attacks, cyber crime — disasters, companies are taking a closer look at their own disaster and business continuity plans and those of their partners and suppliers," said the Christian & Timbers survey.
There are still other new positions that will be generated in the coming year, including chief privacy officers and chief information security officers.
"Growth of ubiquitous transactions from the move to online services and growth of the global virtual workplace have companies drowning in a proliferation of data," said the survey. "Data growth demands that companies put policies and processes in place to protect and respect customer, employee and company information, creating a huge demand for executives that can manage security and privacy."
Compliance a Key, Still
The survey said there is still a place for experts who have cultivated skills in compliance. Compliance may be an old story, in a sense, but it continues to drive C-level hiring, although not at the levels seen in 2004 and 2005. Experts in compliance with governmental regulations, including Sarbanes-Oxley and Basel II, "continue to be in demand. In addition, business process improvement has moved beyond compliance and into a strategic initiative at Fortune 500 companies," said the survey.
U.S. businesses spent $5.8 billion upgrading technology and expanding storage capacity to meet demands of the Sarbanes-Oxley law last year.
Another recruiter, Kforce, based in Tampa, Fla., said 66 percent of its clients plan to recruit for newly created IT positions in the coming year.
"Baby-boom retirements and a shortage of IT graduates are expected to create a shortfall in skilled technology workers at a time when regulatory deadlines and long-delayed upgrades demand additional staff," said David Dunkel, chairman and chief executive of Kforce.