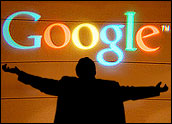 Google unveiled changes to its news site Thursday, but the debut was marred by widespread outages of the pages, along with other Google services.
The system was restored by 10 a.m. ET, and an investigation into the cause of the disruption is underway, according to a statement from Google — and countless tweets on Twitter.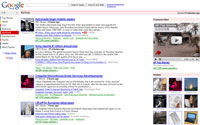 [Click Image to Enlarge]
It was a less-than-glowing premiere of what appears to be the Web 2.0 giant's revamped approach to news.
To be sure, the changes are in many ways subtle: Photos and images are more prominent in the various sections, such as Sci/Tech or Business, for instance. The biggest change, though — and one that suggests Google is rethinking its role in delivering news — is the addition of relevant YouTube videos to many of the news bundles. The videos come with their own, small YouTube label to distinguish them from other videos, which already were incorporated in Google News.
Although Google has never been one to broadcast its intentions, the signs are pointing to a news strategy that has Google providing some of its own content instead of merely acting as an aggregator. There are many reasons for the shift — not the least of which could be legal action on the part of news publishers.
Knowing Google, though, a plan to monetize its YouTube acquisition at long last is most likely a prime motivator.
Monetizing YouTube
"I've been waiting for them to do this ever since they acquired YouTube," Dave Anolik, chief creative officer of Portland, Ore.-based Quango told the E-Commerce Times. The bigger picture, he agreed, is "Google is trying to become a viable network and media channel — just like any old school media outlet."
Google is still banking heavily on its role as aggregator, of course — indeed, by enhancing its Google News pages with new content and photos, it is seeking to keep users on its page as long as possible, instead of sending them on their way to another link.
New Behavior Patterns
"The changes to Google News take direct aim at the news and content aggregators that have historically done a better job than Google of clustering content in a way that provides users with a single destination for multiple stories and media around a particular topic," Nick Gould, CEO of Catalyst Group, told the E-Commerce Times.
For instance, the design of the new Google "story pages" — as Google calls the news sections — "leapfrogs over other players by offering a simple, information rich layout that includes multiple perspectives on a story as well as images, quotes and video from around the Web," Gould observed.
What Google has done is break the user experience flow in a clever way, Hyun-Yeul Lee, an assistant professor at Boston University, told the E-Commerce Times.
A user who clicks on an article is directed to the original story on its home site — thus, the user is then viewing that article's Web site, not Google news. Google is still acting as a pure aggregator, Lee said, meaning there is no financial gain. The addition of YouTube changes that dynamic somewhat by encouraging content providers to publish video content on YouTube.
"Google is crossing thresholds in terms of becoming a provider for content sources in addition to being an aggregator," noted Lee.
"This does not benefit content providers — because the information flow is broken in terms of directing users to content sources — but rather keeps users longer on the Google news site," she said.
Humbler Motives
Of course, it's also possible that Google is merely enhancing what it does best — cataloging content into one place — along with practicing some healthy risk avoidance.
"There's been an awful lot of saber rattling going on by newspapers that Google is in violation of something by linking to their content," Deborah Armstrong, senior VP of sales and marketing at Mediaspace Solutions, told the Ecommerce Times. Adding new content might be part of a larger strategy to circumvent more legal challenges.
"Google's addition of video to its news pages does not necessarily, to me, suggest that they are moving into becoming a content source," Scott Fox, author of e-Riches 2.0: Next Generation Online Marketing, told the E-Commerce Times.
"Google's mission is simply to find offer the content that is most interesting and relevant to its users," he pointed out. "With video's increasing popularity online, it's an obvious step for them to add more video to the news section, especially given that they own YouTube."