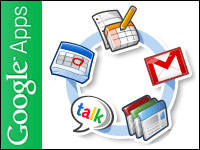 Google on Monday launched a referral program for its office apps. It will hand out $15 referral bonuses to Google Apps customers who convince new users to sign up for the service.
Word-of-mouth praise already has attracted many new users for services including Gmail for businesses, Google Calendar, Docs, Slides, Hangouts and Google Drive, Google said — and it wants to keep that spirit of sharing alive.
How It Works
Google therefore will award the $15 bonus for up to 100 new user referrals. A "user" refers to an individual account belonging in the customer domain. So, for example, if you were to convince a business with 125 users to sign up for a Google Apps account, you would be rewarded for 100 of those new users.
Referring customers also will be able to offer new account holders coupons to save $10 per user for the first year. The referrers will receive more of those coupons as they continue to refer, according to Google.
In order to participate, referrers must reside in the U.S. or Canada, and they must give Google a valid taxpayer ID and bank account information for a direct deposit. There is no limit to the number of people they can refer, but the bonus amount will be based on the number of users who have paid for the service for at least 120 days.
Low-Risk Experiment
Referral programs sometimes can be an effective way to haul in new customers, but in this case, the bonus might be going to the wrong people, said Dave Michels, principal analyst at TalkingPointz.
"Most referral programs are aimed at consumer products or services and work because they tap into personal networks of influence," he told the E-Commerce Times. "I doubt such a program will be that effective for Google, because the Google Apps decision is typically made by IT leadership. The general population doesn't have much influence over IT decision makers."
That doesn't mean it won't bring in any new customers, but it could be more limited than Google is hoping, said Frank Ohlhorst, IT business consultant and analyst at GigaOM.
"Google's referral program is bound to generate some business for the company," he told the E-Commerce Times. "However, it seems that … small businesses will benefit the most from it — and those businesses have very limited reach to other businesses that will adopt Google Apps. Perhaps a better approach would be to offer small businesses free services that are driven by ad revenue and then, for a fee, eliminate the ads."
Still, Google has the pockets to experiment with this and could be in the process of learning more about how to snag some new users via referrals, Michels added.
"Google is great at experimenting, and really there isn't much risk here," he pointed out. "If it works, they are happy, and if it fails, that's OK too."
Taking On Microsoft
If it does fail, the company will need to be more creative in taking on Microsoft Office and Office 365, the primary competition to Google's productivity suite, said J. Gerry Purdy, chief mobility analyst at Compass Intelligence.
"The interesting thing to me is that this is just a referral program — not a conversion or trade-in or some mechanism to get folks to essentially give up using Office," he told the E-Commerce Times.
The problem with a more competitive campaign to win new users is that pitting Google Apps directly against Microsoft's Office products could be a grim reminder that Google has very big shoes to fill if it wants to take on the established giant in the space. Improving the product would be a better way to attract new users than a referral program will be, said Michels.
"Google Apps has always been positioned against Office as a simpler product for less money," he noted. "The problem is Microsoft has narrowed the price gap, so a simpler solution for about the same price doesn't play well — plus several popular features are still missing from Google Apps. Google has some nice advantages around multi-user collaboration, but unless Google picks up the pace, Microsoft is likely to eliminate Google's advantages."