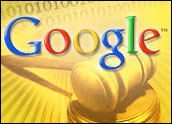 A coalition of 14 privacy and consumer organizations have charged that Google is violating California law by failing to post a prominent link on its home page to its privacy policy.
"Google's reluctance to post a link to its privacy policy on its homepage is alarming," wrote the groups in a letter to Google CEO Eric Schmidt dated Tuesday. "We urge you to comply with the California Online Privacy Protection Act and the widespread practice for commercial Web sites as soon as possible."
The groups signing the letter were the ACLU of Northern California, the Center for Digital Democracy, the Center for Financial Privacy and Human Rights, Consumer Action, Consumer Federation of California, the Electronic Frontier Foundation, the Electronic Privacy Information Center, the Identity Theft Action Council of Nebraska, Knowledge Ecology International, Privacy Lives, the Privacy Rights Clearinghouse, Privacy Times, the U.S. Bill of Rights Foundation and the World Privacy Forum.
Ongoing Saga
Google is no stranger to the criticisms of privacy advocates, many of whom worry about the sheer volume of consumer data it has access to. Its recent acquisition of DoubleClick compounded those fears.
As the accessibility of its privacy policy comes under fresh scrutiny, however, Google maintains that it has done nothing wrong.
"We share the view that privacy information should be easy to find, and we believe our privacy policy is readily accessible to our users," Google said in a response to the charges.
Multimedia Approach
"Just as importantly, privacy information should be easy to understand," it added. "That's why, in addition to offering a Privacy Center with our privacy policy and other important information, we also created a YouTube privacy channel with videos explaining our practices and products, ran an ad campaign to draw consumers to our privacy information, posted several blogs that explain our privacy practices in detail and posted detailed frequently asked questions to help consumers understand the complex aspects of privacy.
"Privacy policies can be complex and not consumer-friendly," the company concluded. "To truly help consumers understand privacy, our goal is to provide accessible and useful information."
Critical or Clutter?
Whether a simple link to its privacy policy would add confusion or clutter to the Google home page, however, appears to be a matter of opinion.
"This is not rocket science," said Marc Rotenberg, executive director of the Electronic Privacy Information Center. "And the word 'privacy' is not going to take up a lot of space on the Google homepage."
On the other hand, "The sheer elegance and utter simplicity of the Google Web page is its distinctiveness," Washington technology lawyer Raymond Van Dyke told the E-Commerce Times. "The inclusion of additional and conspicuous links, words and icons constitutes clutter."
Whether it's legal, of course, is another matter.
'Much Room for Interpretation'
The California statute "has numerous options for the conspicuous posting of a company's privacy policy on a Web page apart from on the homepage," Van Dyke asserted. "For example, the 'first significant page' after the homepage or 'any other reasonably accessible means of making the privacy policy available for consumers,'" as the code words it.
These and other options "leave much room for interpretation," Van Dyke added. "Although Google has been derided for suggesting that their privacy policy is easily available by searching on their own engine, that is indeed what they do. Thus, California consumers savvy enough to use the Google search engine could easily turn to that engine for the privacy policy."
'Bottom of Every Page'
It remains to be seen whether the privacy groups' charges lead any further than a simple request made to Google.
In the meantime, "I generally advise my clients to make their privacy policies as conspicuous as possible, because there are a lot of requirements under the law for how you're supposed to protect individuals' data usage," Sean Kane, an attorney with Drakeford & Kane LLC, told the E-Commerce Times.
"As a Web site owner, you want to be as clear as possible — both in the U.S. and even more so in the EU — as to how you're going to be handling user information," Kane added. "I always say a link should be on the bottom of every page. This should be something that's easy to find."