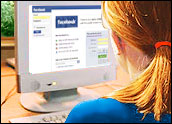 The Canadian Internet Policy and Public Interest Clinic (CIPPIC) has accused Facebook, a popular social networking site, of violatingCanadian privacy laws.
In a 36-page complaint submitted to the Canadian Privacy Commissioner,the CIPPIC outlines 22 separate alleged violations against Facebook. Theorganization claims that it failed to disclose to members howtheir personal information is released to third parties for advertisingand other profit-making activities. It also alleges that Facebookfailed to obtain permission from members to disclose their personal information for such uses.
"We take all complaints seriously, and therefore we are launching afull investigation under the Personal Information Protection andElectronic Documents Act (PIPEDA)," Ann-Marie Hayden, director of communication for the Office of the Privacy Commissioner of Canada, told the E-Commerce Times.
Facebook Responds
The complaint misinterprets PIPEDA in a manner that would effectively forbid voluntary online sharing of information, and it ignores key elements of Facebook's privacy policy and architecture, according to Facebook.
"We pride ourselves on the industry-leading controls we offer users over their personal information," Facebook spokesperson Malorie Lucich told the E-Commerce Times. "We believe that this is an important reason that nearly 40 percent of Canadians on the Internet use our service."
The complaint has serious factual errors, according to Facebook — most notably its neglect of the fact that its users willingly share almost all the data in question.
"We look forward to working with Commissioner Stoddart to set therecord straight, and will continue our ongoing efforts to educate usersand the public around privacy controls on Facebook, including a brochureand video project we have completed with Ontario Information and PrivacyCommissioner Ann Cavoukian," Lucich said.
Sharing By Default
"Although Facebook has taken steps to allow for more control oversharing one's information on the site, its default settings are forsharing, in most cases," said Jordan Plener, a law student working on thecomplaint.
"Changing those settings requires a high level of aptitude and experience with the site," Plener noted. "We believe that many Facebook users, especially young people, don't appreciate the extent to which their often-sensitive personal information is being shared beyond their social circle."
Canadian law states that personal information such as a person'saddress or birth date cannot be released to third parties withoutobtaining a member's express consent. Facebook members must manuallychange their settings to keep personal information private.
According to Canadian law, Privacy Commissioner Jennifer Stoddart has up to one year to investigate the complaint and make recommendations.
The Office of the Privacy Commissioner plans to launch a Web site on Wednesday to educate youth about privacy on the Internet, Hayden said.