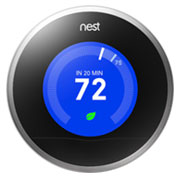 Google on Monday announced that it has acquired Nest for US$3.2 billion. The deal could help Google make significant inroads into the smart home market.
Since its 2010 inception, Nest has been developing a line of smart smoke and carbon monoxide detectors, as well as thermostats that adjust to household activity in order to increase energy efficiency.
"While Google has been working on connected cars, devices, phones, etc., it really didn't have a footprint in the connected home," Zeus Kerravala, principal analyst at ZK Research, told the E-Commerce Times. "Now they do, as Nest gives them that opportunity."
Nest will maintain a distinct identity going forward, but Google's resources and global scale will help it more quickly facilitate conscious homes worldwide, founder Tony Fadell wrote in a blog post.
Expanding the Ecosystem
Nest's brand identity should remain intact in the short term, but if Google executes this acquisition well, the company's technology one day will be a part of Google's overall ecosystem, predicted Kerravala.
"Over the long term, I can see Nest integrated into Google," he said, "and the Android developer community creates a huge base of developers to build other applications that can ride of the Nest platform."
When coupled with the Android system, a connected home device would be even smarter than those Nest can offer now, Kerravala added. For instance, a current Nest thermostat might learn over time that someone gets home from work at the same time every day and turns up the heat a few degrees. The Nest device would eventually do that automatically. However, an Android smartphone could detect if someone happened to be headling home from work early and could change the thermostat accordingly.
Google should be able to establish itself as the dominant vendor in the connected home space, said Kerravala.
"The connected home is about more than connecting things. It's taking the connections and data and making smarter decisions based on all of the information available," he pointed out. "We've all thought of Google as a search company — and rightfully so, as they dominate that market. However, we need to start thinking of Google as a data company, and a company that is looking to use that data to improve our lives."
Bold Buys
The acquisition has the potential to better position Google against one of its chief competitors in the race to connect homes, said Trip Chowdhry, senior analyst for Global Equities Research.
"With the Nest acquisition, Google is embarking on creating a completely new connected residence, which is much bigger, bolder and broader than Apple's myopic vision of the connected living room," he told the E-Commerce Times.
Google likely has more of those bold buys in mind going forward, and execution will be key to its long-term success, said Kerravala.
"Google has a ton of money, and $3.2 billion doesn't even dent the war chest," he observed. "We should expect more acquisitions from Google in markets that don't seem related. Google is great at experimenting with things and then connecting the dots when the time is right."