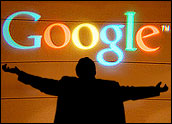 Search leader Google blew away analyst forecasts for profits and revenue Thursday, turning in a third quarter financial performance that seemed certain to put to rest any doubts about the company's short-term growth prospects.
Google's revenue came in at US$2.69 billion, up some 70 percent over the quarter last year, and 10 percent higher than the second quarter. Profits were $733 million, or $2.36 per share, compared to $381 million last year. It was the eighth quarter out of nine since it went public in 2004 that Google has exceeded Wall Street forecasts.
"Business is very, very good here at Google," CEO Eric Schmidt said during a conference call to discuss the results. "We had an excellent quarter in all respects, especially including international."
Google shares soared higher in after-hours trading in the wake of the release, with shares up 8 percent, or $33.79 to $459.85.
Schmidt said the strong quarter was the result of numerous factors, including strong user growth, improvements in search, higher-quality ads and a more diverse business that includes growing international markets.
Deals, Partners, Products
The CEO noted that in recent months, Google has also hit the market with a "blizzard of new product launches, unprecedented for us and confusing to almost everyone." The flurry of new deals, partnerships and products, Schmidt added, "seems to create new opportunities for us every day."
Google's results painted a sharp contrast with rival Yahoo, which managed to meet earnings forecasts, but disappointed many investors with lower profit than a year ago and a lower outlook for the key fourth quarter.
Sticking to its practice, Google refused to offer any formal guidance of its own on the coming quarter, traditionally a seasonably stronger one for most Internet companies.
Still, the results may at least temporarily silence any doubters who believed Google's robust growth was due to slow as the company grew larger and had to match up against ever-larger numbers.
Google co-founder Sergey Brin said higher usage numbers of its search engines and better monetization of searches show that constant investment in infrastructure and refinement of the search tools pay dividends. "We have made them significantly fresher and more comprehensive," he said.
Larry Page, the other Google founder, said Google is uniquely positioned to serve both large companies with a far-reaching ad platform and small businesses with relatively low-cost, targeted and local advertising options.
Also driving results was a slew of new partnerships, CEO Schmidt said, such as the deal with Dell to have Google tools pre-installed on its PCs and a separate partnership with QuickBooks maker Intuit. Though it is too new to be reflected in the results, Schmidt called Google's recent buy of YouTube "the ultimate partnership," though he declined to answer a question about whether the deal would be profitable out of the gate.
Not Focused on Video
By nearly all measures, Google continues to be on a lightning-fast growth path. The company said its employee headcount grew by 1,400 during the quarter, or the equivalent of nearly a dozen new workers every day. Much of Google's growth is now coming from overseas markets, with international making up 44 percent of Google's revenue, compared to 39 percent in the same time period last year.
According to Nielsen//NetRatings, Web traffic to Google's family of Web sites jumped 22 percent, while Google search accounted for just about half of all Web searches conducted in September, with total searches up 24 percent over the year before. Another research firm, comScore Media Metrix, put Google's search share at 44 percent, compared to 28 percent for Yahoo and 12 percent for Microsoft during September.
Though Google executives downplayed the video opportunity as one of several it was pursuing, with its recent YouTube purchase, many believe Google has moved out front of a large pack of companies chasing the chance to become a preferred distributor of video over the Internet.
The YouTube buy clearly grabbed that market by the horns, put pressure on competitors to react and ensured it would have strong growth prospects for several years to come, said Standard & Poor's analyst Scott Kessler.
"Their first growth market is still expanding, but they've made a place for themselves in the next one already," he noted. "Investors love a company that doesn't rest on its laurels but keeps looking for what's next."
The sheer size of the video opportunity, along with Google's continued dominance of Yahoo in search, are only two reasons why several analysts have recently raised target prices on Google's stock, with some calling for the shares to hit $600 or even $650 within a year.