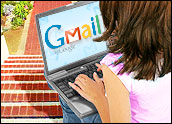 Gmail's 100-minute outage Tuesday was the result of a cascading series of router failures caused by a combination of hardware maintenance and traffic policies, Google said.
The failure of the third-most popular Web mail service left users around the world who access the system online instead of through an email client unable to send or receive new messages or retrieve saved ones.
It immediately set off renewed discussion of the risks of cloud computing, with some users swearing off the service entirely for more old-school offerings from other providers — which, of course, have their own histories of outages.
Risk Isn't in the Cloud, but Out of It
The biggest risk factor associated with outages such as Tuesday's is not the temporary lack of access to data, said Camille Mendler, a Yankee Group analyst who tracks enterprise adoption of cloud computing. Rather, it's the risk that large enterprises that stand to gain greatly from cloud-based computing might become even more reluctant to dive in and give such services a try.
"Once bitten twice shy," Mendler told the E-Commerce Times. "If more and more of these types of outages occur, and people do not get satisfactory service — or, if you will, some type of comeback when these type of things happen — companies may not even try."
Growing Adoption
Enterprise spending on cloud-computing technologies is expected to more than double by 2012, reaching US$42.3 billion, according to research firm IDC.
Among individuals, about 69 percent of U.S. Internet users use cloud-computing services such as Web mail, online data storage or online office productivity tools, according to a September 2008 survey by the Pew Research Center. The largest single group is email users.
The biggest driver in the move toward cloud computing is cost savings, according to IDC.
However, nearly a quarter of IT executives believe the technology is too immature to properly judge, with another quarter saying its an interesting concept that would nevertheless fall flat in front of company leadership, the firm reports.
Googling the Cloud
Google is particularly keen on seeing cloud computing succeed.
Google Apps will likely generate $500 million in revenue in 2009, predicted Collins Stewart analyst Sandeep Aggarwal. That is still a small part of the company's total revenue, but it's one that Google wants to grow.
The company is working toward rolling out an operating system for PC-based computers called "Chrome" that is said to rely heavily on cloud-based services. Google currently offers cloud-based email, office and productivity applications, photo-sharing and other services to individuals and businesses.
Its Google Apps service for businesses will go head-to-head with Microsoft in competing for customers in the cloud-based office productivity market when Microsoft's next version of Office launches with tightly integrated online capabilities.
Google understands that outages such as Tuesday's are troubling to users and particularly to enterprise customers, said Google Vice President of Engineering Ben Treynor in a posting to the company's blog.
"Thus, right up front, I'd like to apologize to all of you — today's outage was a Big Deal, and we're treating it as such," he wrote.
Enterprise Users, Beware
Still, neither Google nor many of the other 40 cloud-computing vendors Mendler follows offer enterprise-class contracts that provide realistic uptime commitments and money-back guarantees — not just credits — for poor service, she pointed out.
The trouble isn't that outages happen. Technology is fickle and any service can be vulnerable, Mendler observed.
"The scandal of the situation is the very weak promises that they make to both consumers and businesses as to what they are willing to commit in terms of reliability," she said.
Google promised to take steps to ensure that something similar never happens again.
It is heaping new router capacity on its network to make sure routine maintenance doesn't cause a significant problem, and it will work to change how the routers handle overloads to ensure that they simply slowdown — not stop dead — should something go wrong.