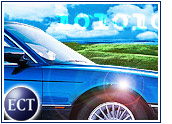 Paving a new way to trade stocks via the Internet, OnStar, a division of General Motors, said Tuesday that it will offer drivers voice-enabled online trading with Fidelity Investments starting this summer.
Under the agreement, the owners of about 800,000 cars equipped with the OnStar navigation system will be able to receive stock quotes, check account balances and place online trades from their cars.
"Unlike the dozens of other ways consumers access stock information while driving, OnStar Virtual Advisor is specifically designed for a vehicle environment, allowing customers to keep their eyes on the road and hands on the wheel," OnStar president Chet Huber said.
Huber said the system will require users to push a single button to connect and that passwords will be automatically remembered.
Web Cars
The Fidelity partnership expands the OnStar offering that GM announced to much fanfare in 1999.
The company pledged to spend US$1 billion to develop and make what it called "Web cars," which are equipped with built-in cellular phones and computer terminals, in the hopes of generating as much as $6 billion a year in access fees and e-commerce revenue.
Other car makers are following a similar path. In August, Ford forged a pact with wireless communications firm Qualcomm to Web-enable its vehicles.
55 MPH, 100 CSCO
OnStar's Virtual Advisor program is already available in some parts of the country and is being rolled out across the U.S. this spring. Currently, the system enables users to access e-mail, stock quotes, sports reports, news and weather from their cars.
Users pay $200 to $400 annually for the basic system, plus airtime minutes, similar to a cellular phone plan.
Observers say the link with privately held Fidelity provides OnStar with a sizeable customer potential. One of the largest managers of private individual and corporate-sponsored retirement accounts, Fidelity manages accounts for about 7.3 million 401(k) plan investors and has already signed up about 100,000 customers for its own wireless trading program.
Road Rules
While GM has partnered with America Online in the past, the Fidelity partnership is GM's first aimed at enabling direct revenue-producing e-commerce inside OnStar-equipped vehicles.
Despite the hands-free design, safety advocates are raising questions about the move and whether it would lead to more distracted drivers.
According to Forrester Reseach, it will take time for so-called telematics to gain traction with consumers. Analyst Jeremy Schwartz said in a recent report that while some in-car Web services will catch on quickly, such as news feeds and navigation aids, it will be another three years before consumers fully embrace the capabilities of in-car Internet services.