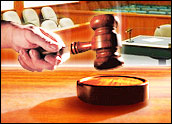 Microsoft's star witness, the company's chairman and former CEO Bill Gates, took the stand in a long-brewing antitrust civil lawsuit that pits Redmond against software maker Novell.
The suit is based on an oft-repeated accusation against Microsoft: namely that it abused its dominant position in the market to shut a rival out. Microsoft's position has been that WordPerfect and Quattro — Novell creations that were very popular at one time — no longer met the needs of the market and that is why its own productivity apps took center stage.
The case Novell v. Microsoft has been underway in the Utah U.S. District Court for a month. Gates was Microsoft's first witness.
Novell originally filed the suit in 2004, but getting to this point has been a long journey. The company only won the right to go to trial in May 2011, when the U.S. Court of Appeals for the Fourth Circuit reversed a March 2010 summary judgment in favor of Microsoft. Novell has had five out of its claims against Microsoft dismissed.
Novell is seeking between US$500 million to $1.2 billion in compensation.
Gates Takes the Stand
Gates said nothing in his testimony that reversed Microsoft's longstanding position that Novell was not deliberately shut out of the market. Rather, according to Microsoft, WordPerfect's demise was the result of a series of events — including Novell's own failure to develop a Windows-compatible WordPerfect program until Windows 95 had been on the market for months.
Gates said that the Windows 95 rollout was the most challenging in the company's history to that point, and that there were several changes to the system at the last minute. These changes meant WordPerfect would no longer be supported.
He "absolutely" denied that Microsoft eliminated the part of the software that would support Novell's WordPerfect and Quattro Pro programs in the final version to clear the way in the market for Microsoft's own applications.
"We worked super hard," Gates said. "It was the most challenging, trying project we had ever done."
Gates' cross-examination by Novell began on Monday after his initial testimony and is scheduled to resume on Tuesday.
"Gates appears to be holding up well under cross examination so far," Hillard M. Sterling, partner with Lewis Brisbois Bisgaard & Smith, told the E-Commerce Times. "He is adept at keeping from getting baited into arguing with opposing counsel. He is staying calm, cool and collected, which is crucial for a jury."
Also, Sterling added, "Gates' theme is coming across loud and clear — that Microsoft had legitimate tech concerns from moving away from Word Perfect and to its own word processing software."
'Stabbed in the Back'
Microsoft was not obligated by law to provide advance access to Windows 95, Novell has acknowledged. However, it maintains that Microsoft violated antitrust law when it "tricked" the company into working on a version of Windows 95 that was never rolled out.
"We got stabbed in the back," Novell attorney Jeff Johnson said in court.
Remembering the 1990s
Both Novell and Microsoft are going before the jury with plenty of baggage, despite admonitions from the court not to consider past issues.
More than ten years ago, the U.S. Federal Trade Commission launched an investigation into Microsoft over whether it was using its Windows operating system to shut out rivals to Internet Explorer. The Justice Department eventually took over the case and, along with several states, filed suit against Microsoft. The government won the first round in court but lost the case on appeal.
In 2001, Justice and Microsoft settled their differences under terms that included Microsoft sharing key technical information about Windows, providing licenses and a long period of oversight, which recently came to an end.
However, Microsoft can't un-ring this particular bell, Sterling said.
"Clearly the jury knows Microsoft has been found to be a monopolist behaving badly in past, but they will be instructed to keep those opinions away from the issues of this particular case. So that will be one strike against Microsoft as it argues that its decisions were based on technology and not competitive concerns."
At the same time, the jury will also remember how cumbersome WordPerfect was, at least compared to Microsoft Word, Sterling said.
"That creates a challenge for Novell to show that Microsoft had sinister motives for using Word," he added. "Novell doesn't spark warm and fuzzy feelings in most jurors' minds either, when they remember their experiences using these various products."
A Hindsight Analysis of Events
Microsoft also has the benefit of jurors' 20-20 hindsight vision, Ryan Radia, an analyst with the Competitive Enterprise Institute, told the E-Commerce Times.
"Yes, this is an argument levied against Microsoft for many years, but in this case I don't think people will conclude that Microsoft actually hurt consumers," he said.
"The OS market and the office productivity market is significantly more competitive than it was when Microsoft's antitrust settlement was reached a decade ago. As such, I am skeptical of Novell's claims," he added.