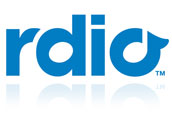 Rdio announced Thursday that its Web users will have free, unlimited access to content, an update that came on the heels of similar news from Spotify.
Spotify started offering free streaming music for iOS and Android mobile devices last month, and on Wednesday announced that it was eliminating time limits for all of its Web users. There were never restrictions on streaming in the U.S., but in some other places, Spotify had limited free listening to a certain number of hours per month following a free six-month unlimited trial.
Less than a day after Spotify's update, Rdio announced that users listening via a computer will now have unlimited access to its songs, playlists and radio stations for free.
The unbeatable price is thanks to advertising. Nonpaying listeners now will hear messages from partner brands, notifications about exclusive content, and other tips during Rdio's broadcast. Users who don't want ads have the option to pay US$9.99 per month for unlimited ad-free mobile and Web access.
Getting Big Before Beats
The moves from Rdio and Spotify come just before the Jan. 21 launch of Beats Music, the streaming music service from the makers of the popular Beats Headphones and the latest service to try to make a splash in the competitive field.
The company is teaming up with AT&T to provide its subscribers with a free 90-day trial, as well as $14.99 monthly subscriptions that can be used with up to 10 devices on a family plan. Customers not on AT&T plans will have to pay $9.99 per month for the service, and there will be no free tier except for a free trial period.
Beats Music is the latest newcomer to force competitors into action, said James Cridland, radio consultant and futurologist.
"Both Spotify and Rdio probably can't afford to do this, though they're being forced into it by the move of Beats Music," he told the E-Commerce Times. "It underlines the fact that all these services are simply selling a commodity — music. They all have roughly the same music, they all offer it on similar devices, and they all offer it at similar prices — they have to."
Cutthroat Competition
That one-upping from Rdio and Spotify on the heels of the Beats debut is an indication that 2014 will bring more cutthroat competition in the streaming audio game, said Mark Mulligan, media analyst at Midia Consulting, told the E-Commerce Times.
Right now, the only way to stay in the game is by offering free music, even if it's not in the best interest of either company's bottom line.
There's only so much these companies can do to set themselves apart from the crowd, Cridland pointed out. There's no clear leader in the space, and even with new free music features, Spotify and Rdio have a rough road ahead of them.
"Online music services like Spotify and Rdio don't have their own branded goods, and they don't have advantages on location, so user experience and price will be the only differentiators," he said, "and online consumers are quite happy to switch apps and try new things. It's relatively simple for anyone to appear."