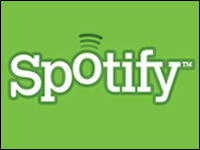 Spotify announced Wednesday that it is offering a new free mobile streaming option to listeners, a move that could help it compete in the evolving digital entertainment space.
Mobile users previously were limited to the Spotify Premium plan, which provides streaming access on phones or tablets for US$9.99 per month. The new service gives iPad and Android tablet users the same free on-demand access to Spotify that's available via a personal computer.
The options are slightly limited for iOS and Android smartphone users. They will be able to listen to their own playlists, as well as those curated by the people they're following or by Spotify, but they won't have the same free on-demand access as tablet and PC users.
Users on iOS and Android smartphones can listen to a particular artist's entire catalog, but they cannot select individual titles. So, a user could choose to hear songs from The Eagles, for example, but only in shuffle mode. However, users can add particular songs to their playlists, making them available for future play whenever they'd like.
Spotify's service differs from that of its chief competitor, Pandora, which streams music by stations that are essentially compilations of a number of artists' recordings, based on the user's song or artist selection.
Spotify launched in 20 new markets this week, bringing its total to 55, according to its Wednesday announcement.
Achilles' Heel
Along with the new mobile offerings, Spotify announced the addition of Led Zeppelin to its content lineup. By Sunday, the band's full catalog will be available.
The timing suggests Spotify is banking on strong content, together with playlist features, to distinguish it from the crowd, suggested James Cridland, a radio futurologist.
"The Led Zeppelin announcement highlight the Achilles' heel in these services — they all have basically the same content," Cridland told the E-Commerce Times.
"To switch between Spotify and Rdio or to Google Play Music very rarely means losing out on content. Perhaps with the Spotify mobile app's reliance on playlists, Spotify is encouraging users to invest time and effort building those playlists — and therefore keeping them as users because they don't want to lose those playlists," he conjectured.
Changing With the Times
The move was also essential to draw in music listeners that increasingly are choosing mobile devices over PCs for digital media consumption, said Mark Mulligan, media analyst at MIDiA Consulting.
"Keeping momentum going is central," he told the E-Commerce Times. "Spotify wants to sign more people up today, and if they can draw them in with a free mobile option, maybe they're going to be more likely to subscribe to the service. When Spotify launched, mobile wasn't really a big part of people's lives in the way that it is now, so this move really brings Spotify's value proposition up to date."
The changes indicate Spotify is hoping for a quick boost in users and popularity — a necessary step for long-term growth, said Mulligan.
"The question will be when this free tier becomes too popular," Mulligan pointed out.
"Spotify doesn't want to be in the business of shouldering a massive free user base. This looks more like a means to an end in terms of where they're trying to go as a company," he suggested.
"They can gain some momentum for an IPO, hopefully draw more paid subscribers, and get a good adrenaline shot in the arm," said Mulligan. "In that sense, it's more short-term growth than a long-term sustainability plan."