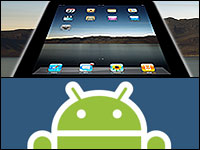 The new breed of tablet-style computing devices typified by Apple's iPad — "media tablets," as IDC calls the category in a new report — are projected to grow at a compound annual rate of 57.4 percent between now and 2014. That is an increase from 7.6 million units in 2010 to more than 46 million four years from now, according to the firm.
IDC defines "media tablets" as devices that sport a 7-inch to 12-inch color display and don't have built-in hardware keyboards. The ones in the market now — or expected to enter shortly — are based on ARM processors and run such lightweight operating systems as Apple's iPhone OS and Google's Android OS. They are designed to consume broadband media and applications.
The "true" tablet PC category — tablets based on x86 processors that run full PC operating systems — is tiny by comparison. An estimated 1.3 million tablet PCs will ship globally this year, according to IDC, increasing to just 1.7 million units next year.
IDC expects 398 million portable PCs (notebooks and netbooks) will be shipped in 2014.
A Complementary Category
Right now, the media tablet category is complementary with other mobile computing devices, Bob O'Donnell, an analyst with IDC, told the E-Commerce Times.
"Some people may assume that this growth comes at the expense of something else — but no, we don't see an erosion of smartphone or notebook sales as a result of this relatively new category."
Competing Devices
Currently the iPad is the device to beat, and O'Donnell said that competition is already heating up as vendors announce plans to enter the market. That competition will account in no small part for the huge growth expected.
"I think we will see a lot of interesting products in both the high and low ends of the market," he remarked.
The Google-Verizon tablet and two tablet devices that Dell is rumored to have under development are obvious competitors.
Another likely player will be HP with its recent acquisition of Palm.
"Certainly, we can count on HP building media tablets based on Web OS," said O'Donnell.
Intel's next-gen Atom processor-based platform holds real promise, he said, as does the MeeGo platform, formed through the merging of Intel's and Nokia's Moblin and Maemo operating systems earlier this year.
There will also be some serious competition emanating from Taiwan, O'Donnell predicted.
Indeed, a rumor surfaced this week that Acer will be partnering with Quanta Computer to develop a tablet PC running on Google`s Chrome OS.
Look for these competitors to distinguish themselves by exploiting the perceived weaknesses of the iPad — namely, its lack of a USB port and Apple's refusal to support Flash, O'Donnell said.
Jockeying for Position
Of all these, the Google-Verizon device is best positioned to compete head-to-head with the iPad in the U.S., Azita Arvani of the Arvani Group, told the E-Commerce Times. "Both Verizon and Google have the marketing power to promote the daylights out of whatever they create — just like Verizon did with the Droid," she said.
Globally, Nokia will likely provide competition for the iPad, she added.
These would-be competitors have one common advantage, Arvani noted — "Apple has already created demand for these devices. Now, all [other] firms have to do is figure out how to ride it."
The App Ecosystem
The hardware is a relatively easy piece, said O'Donnell.
"The hard part — and what will ultimately distinguish the vendors — will be the apps," he said. "That is where Apple has a huge advantage. Its App Store has such a head start that it will take some time before anyone else can catch up."