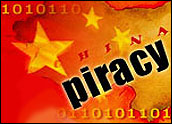 A joint sting operation by the FBI and the People's Republic of China netted more than half a million dollars' worth of counterfeit software, the FBI announced Monday.
The unprecedented cooperative effort, code-named "Summer Solstice" and dating back to 2005, resulted in the arrest of 25 people and the seizure of assets in China worth over US$7 million as well as more than 290,000 counterfeit software CDs and certificates of authenticity with an estimated retail value of $500 million.
Agents with the FBI's Los Angeles Field Office investigating U.S.-based distributors, meanwhile, turned up $2 million in counterfeit software products and assets worth over $700,000.
Counterfeits of both Symantec and Microsoft products, including Windows Vista, XP and Server, were among those uncovered.
Focus on Microsoft
"The growing crime involving the theft of copyrighted material does not end at U.S. borders but affects the global economy," said J. Stephen Tidwell, assistant director in charge of the FBI in Los Angeles. "The buying and selling of counterfeit goods amounts to stealing the ideas of others and is no different than common theft, where the consequences of getting caught include going to jail and other serious penalties."
Included among the arrests made were a Guangdong, China-based counterfeiting syndicate believed to be the largest of its kind in the world, allegedly responsible for manufacturing and distributing roughly $2 billion worth of counterfeit Microsoft software.
"Microsoft deeply appreciates the work of China's Public Security Bureau in taking such strong enforcement action with these arrests and raids in Southern China," said Brad Smith, senior vice president and general counsel at Microsoft.
"This case represents a milestone in the fight against software piracy — governments, law enforcement agencies and private companies working together with customers and software resellers to break up a massive international counterfeiting ring," he added. "This case should serve as a wake-up call to counterfeiters: Customers around the world are turning you in, governments and law enforcement have had enough and private companies will act decisively to protect intellectual property."
A Growing Problem
Software piracy deprived the software industry of an estimated $40 billion in 2006, according to IDC, representing an increase of 15 percent over 2005. Roughly 35 percent of software on PCs worldwide is pirated, IDC says.
China is well-known for the incidence of software piracy, Jim Burger, partner and copyright attorney at Dow Lohnes, told the E-Commerce Times. "I always said there's just one legitimate copy of Microsoft Windows in China," he quipped.
Given the record-setting magnitude of the Chinese bust, Microsoft expects that countries around the world will experience a significant decrease in the volume of counterfeit software as a direct result of this action.
New Steps Forward
Aside from its magnitude, the Summer Solstice sting is also notable for the concrete evidence it provides of China's increased interest in protecting intellectual property.
China has shown strong progress in addressing software piracy, resulting in a drop in its domestic piracy rate of 10 percent since 2003, said Robert Holleyman, president and CEO of the Business Software Alliance (BSA).
"The BSA and its members will continue to work cooperatively with the Chinese authorities to support these positive anti-piracy and education initiatives," he said.
Spirit of Cooperation
"It's wonderful that China has been working to get more to the forefront of this," Sean Kane, an attorney with Drakeford & Kane, told the E-Commerce Times. "I think they are realizing that they need to protect others' intellectual property rights if they expect to be in the world market, and if they want others to protect their rights."
China's new cooperativeness may even be the biggest take-away from the bust, Burger said.
"You just can't tell countries what to do — a carrot approach works better," Burger concluded. "In China's case it took a long time, but it looks like it worked."