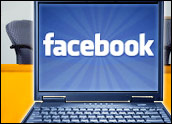 Facebook is testing a new version of its comments feature that elevates the most-engaged remarks on brand pages to the top of the list.
The new format appears on the pages of celebrities and public individuals such as journalist Fareed Zakaria and quarterback Tim Tebow.
"We are testing a new format for comments on Page posts," Facebook spokesperson Jessie Baker told the E-Commerce Times. "As part of this test the most engaging comments appear higher up. You will also be able to reply to individual comments as well as the original post."
Currently, Facebook's comment sections show comments chronologically. Under the new system, though, comments that receive the most user engagement in the form of Likes and comments will be displayed more prominently.
For instance, on Zakaria's page, the most liked and commented on posts appear first under his status updates. A much-replied to comment appears shaded in a light-blue box, with the replies to that particular comment appearing beneath it in white boxes. The beginning of a new thread is easy to spot when another light-blue box appears.
Also in testing is a Reply link in comments that allows users to reply directly to a comment in the comment string. The reply is grouped with the comment to which it refers, rather than being placed in chronological order.
The format is similar to other comment sections on blogs and news websites, which show conversation threads for a cleaner, more coherent look to the comment system. It also resembles social sharing networks such as Reddit, where users can vote to push certain stories to prominence.
New Ways to Engage
The new system could help drive user engagement, said Brian Carter, Internet marketing expert. The comment threads may promote greater interaction between users on celebrity and product sites, helping Facebook become known as more than just a sharing site between friends.
The new feature does that without coming across as too confusing or complicated, said Carter. It could also be helpful for brands or businesses trying to advertise on Facebook but worried about spam comments.
"The new reply to comments feature is interesting," he told the E-Commerce Times. "Certainly many blogs have a commenting feature like that. It's a trade off between organizing the discussion better and keeping things simple. I don't think it will make things too complicated or ugly."
More Engagement, More Money
Finding new ways to engage users has always been part of Facebook's mission and has only increased since the company began preparing for its IPO. Since then, it has worked to convince investors that it can remain a dominant social network and continue to draw users and bring in money.
That means its initiatives with sponsored posts, the mobile market and other new features meant to foster user engagement must strike a balance between what's good for investors and what is good for users, said Ernest Barbaric, digital marketing strategist.
"If engagement levels keep falling, advertisers — keep in mind I say advertisers and not marketers — will abandon Facebook in favor of another ad delivery vehicle," he told the E-Commerce Times.
For now, the constant tweaking and testing is working out OK for Facebook, Carter pointed out.
"Users have always complained about Facebook's interface changes, but they've never left in significant numbers because of one," he said. "It makes sense that Facebook should test new features and see how users behave — they believe in optimizing the social network to best fit people's psychology so that people will spend more and more time on Facebook."
If users begin to notice that the new features seem more geared toward making money — a mission Facebook has always attempted to convince its users is not its primary goal — it could turning people away from the site's new look, Barbaric warned.
"Comment ranking seems like an initiative that isn't really benefiting anyone but Facebook," he observed. "It also seems like this is a feature that will dovetail into their Edgerank algorithm, which affects the reach of a status update. So, brands will begin to focus more on comments rather then just likes — and in turn may increase spending in order to increase visibility of their posts by purchasing sponsored stories and similar offerings. At the end of the day — how exactly does that benefit the end user?"