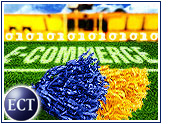 Dot-com incubator CMGI said it has negotiated to end a 15-year, $114 million deal that called for its corporate name and logo to adorn the stadium where the Super Bowl champion New England Patriots play football.
The move comes just a week before the Patriots play their first-ever game in the new facility, which is located about 25 miles south of Boston, Massachusetts. Boston-based razor and battery maker Gillette will take over the naming rights. Terms of Gillette's deal were not disclosed.
CMGI said it will maintain a "limited" marketing presence at the stadium, for which it will pay $1.6 million per year until 2015. The reduced payouts will save the incubator $86 million over the life of the deal, though it said it will take a $21 million charge in the third quarter in connection with buying its way out of the agreement.
CMGI CEO and president George McMillan said it is important for CMGI to maintain some presence at the stadium. "Our consumers are great sports enthusiasts," he noted.
Hanging Around
CMGI first announced the 15-year agreement, which specified that it would pay $7.6 million per year for stadium naming rights, in August 2000.
Many observers questioned the deal because the dot-com bubble had already burst. At the time, CMGI stock was trading at about $44 per share, well below its all-time high of more than $100 but still far above its current level of 40 cents.
"CMGI's business, and indeed the business climate for technology companies overall, has seen drastic changes in the two years since we announced our original agreement," said CMGI CEO and president George McMillan. "Given the larger market challenges and our ongoing restructuring, we are focusing our corporate spending on uses that will help build our business moving forward."
Hardly Shocking
While the move can hardly be deemed a surprise, the timing could not have been worse for CMGI. The Patriots will take the field as defending Super Bowl champs for the first time in franchise history. They have sold out every home game, including preseason contests, and will appear on national television several times during the season.
The team said it has a paid waiting list of more than 50,000 fans who want to buy season ticket packages for the new stadium, which so far has hosted only soccer games and concerts.
In addition to high-profile media exposure, naming deals provide an opportunity to reward employees and customers, according to deal successor Gillette.
While the main sign gracing the facade of the stadium came down immediately after the change was announced, Gillette said it willtake well into the upcoming NFL season to replace the 2,000 or so signs around the stadium bearing the CMGI logo.
Infamous Company
CMGI joins some infamous companies in having its name removed from the stadium. In many cases, old-economy companies have stepped in to pick up where new economy superstars left off.
Before the 2002 baseball season started, the Houston Astros broke off a naming deal with Enron, which faced accounting turmoil, bankruptcy and criminal allegations. The Astros now play in Minute Maid Park.
And in Baltimore, failed telecom PsiNet had its name removed from the home of the Ravens football team. That field now bears no corporate name at all.
Down to Nine
Once a sprawling dot-com domain with interests in as many as 50 Internet firms, CMGI has pared its holdings considerably and now has a stake in what it considers nine main companies, including online marketer Engage, AltaVista and Yesmail.
CMGI and its fellow incubators have fallen on particularly hard times because woes caused by the dot-com collapse were magnified by their massive investments in the sector. The company saw its quarterly losses peak at a stunning $1 billion late in 2001, shortly before a restructuring in which it shed several of its less-profitable holdings.
"The more investments these holding companies made, the more likely they are to be hurting now," US Bancorp Piper Jaffray senior analyst Safa Rashtchy told the E-Commerce Times. "They grabbed them like mad on the way up and then discovered they couldn't get rid of them fast enough."