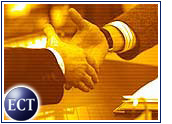 FairMarket (Nasdaq: FAIM) rose to US$2.41, up 53 cents, after the company, which provides so-called "dynamic pricing"services to retailers, said its clients will be able to sell their waresdirectly over the eBay marketplace.
FairMarket said the deal will let merchants, manufacturers anddistributors "efficiently list, manage and transact sales through eBay."
Home-shopping network ValueVision will be one of the first FairMarketclients to take advantage of the agreement.
"In addition to providing distribution of products and services to theexisting FairMarket network, we will now provide our clients with theinfrastructure andservices needed to take advantage of eBay's vibrant marketplace of over 22million registered users and 2.6 million users each day," said FairMarketpresident and chief executive officer Eileen Rudden.
The new service will be available early in the second quarter, FairMarketsaid.
FairMarket, based in Woburn, Massachusetts, reported a loss before one-timecharges of $8.3 million, or 29 cents per share, for the fourth quarter endedDecember 31st, compared with a loss of $8.5 million, or 30 cents, in thesame period a year earlier. Revenue totaled $3.3 million, down from $3.6million.
The company said it is focusing on large retailers, distributors,manufacturers and service providers, helping them sell discount and clearance goods andconduct interactive marketing events on the Web.
New FairMarket clients include Style.com, Virgin.Net and the SanFrancisco Chronicle. The company also serves JCPenney, Dell Computer, MSNand Lycos, among others.
FairMarket is also expanding its presence overseas, with the recent openingof an office in Frankfurt, Germany.