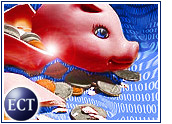 FairMarket, Inc. (Nasdaq: FAIM) fell 0.12 to 1.56 Wednesday after thecompany, which provides dynamic-pricing services for companies doing business online, said fourth-quarter revenue will be below previousexpectations as it writes off some "doubtful accounts."
Still, the Woburn, Massachusetts-based company said it expects asmaller operating loss for the fourth quarter that is less than reported for thethird quarter, excluding charges related to a planned workforce reductionannounced in October. In the third quarter, the company posted a US$8.5 million loss before equity-related charges, or 30 cents per share.
FairMarket said revenue for the fourth quarter will likely total $3.1million to $3.3 million, below previous estimates of $3.6 million.First-quarter 2001 revenue will be "in approximately the same range," as theoperating loss continues to improve, the company said.
The company aims to break even on a cash-flow basis in the first quarter of2002.
Most of the accounts being written off are those of dot-com customers,FairMarket said.
"We have sharpened our focus on the large retailers,manufacturers and distributors, for whom our discount and clearancesolutions are delivering thegreatest value, and are building from there," Fairmarket president and chiefexecutive officer Eileen Rudden said.
FairMarket also said it restructured an agreement with Excite@Home in order toeliminate a $7.5 million commitment for it to buy online advertising in2001.
Under the new agreement, the companies will launch later this month an Excite Outlet Center,providing sale and clearance items for sale. The center will use auction, falling-price andfixed-price formats to sell products from retailers including JCPenney,CompUSA and Dell Computer.