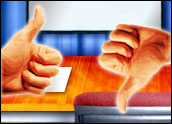 The latest e-business report from ACSI, The American Customer Satisfaction Index, has some bad news for Facebook — and by extension, yet more good news for Google.
The survey, produced in partnership with customer experience analytics firm ForeSee Results, found that despite a small 3 percent jump in its score, Facebook ranks as the lowest-scoring site of all companies measured, not just in the social media category.
There are likely many reasons for the low score of 66, Larry Freed, president and CEO of ForeSee, told the E-Commerce Times. These could include the complexity of the user controls, the introduction of ads, and the privacy issue. In the end, though, those reasons don't matter — unless, of course, Facebook takes dramatic strides to fix them in short order.
"What this tells us is that Google+ has plenty of room to grow, especially at Facebook's expense," he said.
Users Will Eventually Choose
Google+, to be sure, has made astounding progress in the space of a few weeks, Rob Enderle of the Enderle Group told the E-Commerce Times. However, it is important not to lose sight of the big picture, he said — that is, the 750-million-plus user base that belongs to Facebook.
Its low customer satisfaction score is an interesting metric, in that it does allow Google+ more room to grow than one would have assumed before it launched its service, according to Enderle.
Still, the fact is that most Google+ users are using both networks at the moment, he said. "Google has done a nice job, by restricting initial use, in making Google+ a status service, which is doing a nice job of pulling people in — but at some point, these users will choose between Facebook and Google+."
Google Tops Search
Interestingly, the debate that the ACSI report is launching is not captured by the actual index, as the survey took place before Google+ was rolled out.
ACSI did measure Google according to its search and portals prowess — where it, in fact, performed very well. It leads the category with a score of 83, up 4 percent from last year. However, Bing is within striking distance. Its score jumped 7 percent in one year to reach 82. Last year, Google's customer satisfaction score was three points higher than Bing's.
Google made an appearance in the social media category via YouTube, increasing its score by one percentage point, to 74. However, it is topped by Wikipedia, which grew 1 percent to reach 78.
MySpace, not surprisingly, was dropped from this year's index due to its membership decline.
In general, social media is one of the lowest-scoring categories, ACSI said, topping only airlines, newspapers, and subscription television services.
News Sites
The newspaper category doesn't include news websites, however, which is showing signs of growth, Freed said.
FoxNews.com tops the news and information category with a score of 82, five points ahead of the next highest-scoring site, ABCNews.com, at 77. NYTimes.com, dropped 4 percent to 73, likely a reflection of the pay wall that was being implemented when the survey was conducted.
At 69, HuffingtonPost.com debuted at the bottom of the category. However, the site has room to grow, Freed said.
"HuffPost's approach to news and information is very different, and one reason the score is low is because its audience is still not quite mainstream," he said. "It is mainly young, blog-friendly, politically liberal."
However, as HuffPost moves into the mainstream and the audience gets used to its style of news, there is room for growth, in Freed's view. "I don't see HuffPost's score as a negative, but more of an opportunity."