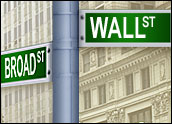 No one could accuse Facebook of having beginner's luck on Wall Street. The company's initial public offering on Friday was delayed by two hours due to a glitch in Nasdaq's trading system, prompting many traders to cancel orders because they were not sure of the stock's price. The day, in general, was arguably a disappointment for the social media giant, with its per share price ending only slightly above the US$38 starting price.
That disappointment has no doubt turned into downright dismay. On Monday, the stock dropped close to 11 percent to reach $34.03 per share by 4:30 ET. While Facebook and its supporters could have consoled themselves on Friday with the argument that the stock was priced just right — and thus there was no need for a first day pop — that theory clearly doesn't explain Monday's performance.
Nasdaq's Role
It's clear that Facebook did take a hit from the two-hour delay on Friday. Traders who had bid on the stock panicked when they couldn't see the price they would be paying and canceled their orders.
High-frequency traders just added to the general confusion, securities attorney Andrew Stoltmann of Stoltmann Law Offices told the E-Commerce Times.
They were canceling orders milliseconds before the IPO was set to open, he said, adding that Friday was not the first time high-frequency traders have caused such problems.
However, the Nasdaq glitches were irrelevant in the view of Jeff Sica, president and CIO of Sica Wealth Management.
"Frankly, I think the delay in trading is being used as a cop-out," Sica told the E-Commerce Times.
"Obviously the Nasdaq glitch affected traders to a point, but overall it has been used as an excuse by people hyping the stock as to why it didn't do well," he said. "If people really wanted to own the stock, whether it was serious or not, the Nasdaq glitch wouldn't have stopped them from buying when they could."
A Question of Valuation
Even without the delay in trading, it may be that the day's events, and Monday's subsequent price drop, were inevitable. Simply put, Facebook was never worth $38 per share, or anything even close, suggested Trip Chowdhry, managing director of equity research for Global Equities Research.
"I don't think the Nasdaq glitch had anything to do with it," he told the E-Commerce Times. "Facebook is a great company but it is not nearly worth $38 per share. At best, I would say it should have been priced at $15 to $18 per share."
Investors saw through the hype of Facebook's IPO roadshow, Chowdhry said.
Fundamentals rule the market right now, and Facebook's revenues do not support the $100 billion market cap at which it has been valued, he continued. "There are too many questions about its business plan that Facebook has not bothered to answer, even in areas that it could answer."
For instance, one question Chowdhry posed to Facebook was about its ad revenue split between active engagement and passive engagement. It went unanswered, along with a slew of others, such as requests for details about its plans for mobile.
Big Disappointment
Facebook has very quickly become a major disappointment to a lot of investors, Sica said. "One reason I think the price dropped on Monday is that people bought the stock in the pre-IPO partly for emotional reasons and then became disillusioned and just wanted to get rid of it."
Facebook is a better value priced in the mid-20s range, Sica said. "I think we will see it drop to that level within the next few days."