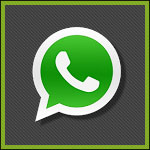 Facebook on Wednesday announced the acquisition of WhatsApp in a US$19 billion deal geared toward increasing its global connectivity.
The company paid $4 billion in cash, $12 billion worth of Facebook shares and an additional $3 billion in restricted stock to acquire WhatsApp. Facebook was drawn to the company's ability not only to connect mobile users worldwide, but also to sustain rapid growth in a competitive arena.
More than 450 million people use WhatsApp each month, with 70 percent of them active on a given day. WhatsApp is adding more than 1 million new registered users per day.
WhatsApp will maintain its brand and independence going forward, and nothing will change for WhatsApp users as a result of the acquisition, the companies said. As part of the deal, WhatsApp cofounder and CEO Jan Koum will join Facebook's board of directors.
Top Dollar
The $19 billion that Facebook shelled out is worth it, considering that WhatsApp is more than a messaging service, said Brent Csutoras, social media strategist at Kairay Media.
"At first, I was shocked by the $19 billion valuation, even if it is only $3 billion in cash," he told the E-Commerce Times. "However, when you start looking at other valuations for tech companies over the last two years, such as Twitter at nearly $10 billion, you find two important things that have really been essential in a higher-than-normal valuation: user and user data acquisition, and mobile usage."
The investment will pay off, said Csutoras, especially since WhatsApp fits so well into Facebook's core business model.
"The purchase of WhatsApp helps Facebook further accomplish their goal, which is to give people the power to be more connected," he said. "With the growth of mobile, connectivity throughout the world and technology, it is an amazing valuation — but also an amazing buy for Facebook."
What's Next for WhatsApp
Figuring out how WhatsApp will add to Facebook's bottom line will come slowly, said Arvind Bhatia, an analyst at Sterne Agee.
"WhatsApp is clearly in the very early stages of monetization as management's entire focus currently is user growth and user experience," he told The E-Commerce Times.
WhatsApp's continued growth will be key to its eventual monetization, said Facebook CEO Mark Zuckerberg a call following announcement of the acquisition.
Global expansion — not ad sales — will be the winning strategy, he said.
The money will come once users worldwide turn to WhatsApp for their international connectivity needs, said Trip Chowdhry, senior analyst for Global Equities Research.
"There is the potential here for so much growth in the developing world, because WhatsApp is one of the only applications that runs equally well on feature phones and smartphones, and is fast and simple to use," he told the E-Commerce Times. "This is a very smart and essential acquisition for Facebook."