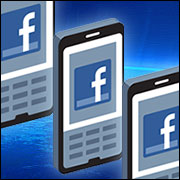 Facebook announced Tuesday that it is testing a new ad program for mobile apps in a limited beta.
The system is aimed at iOS and Android developers who want to grow the audience for their apps, according to Facebook engineer Vijaye Raji. Anyone who clicks on an ad for an app will be sent to the App Store or Google Play to download it, assuming it is not already installed on the device.
This will prove to be a robust distribution channel for developers, Raji predicted, noting that Facebook has sent people to the Apple App Store and Google Play 146 million times via clicks from channels such as news feeds, timelines, bookmarks and the App Center.
This mobile app ad system certainly will help app developers increase their reach and probably afford them more opportunities for engagement down the road, said Gabe Donnini, data solutions engineer at Chitika.
Whether it will be the major boost that Facebook portrays it to be, though, is another question, he told the E-Commerce Times.
"While this new platform will certainly be a valuable tool in a developer's arsenal for driving application downloads," he said, "the level of effectiveness the ads will have [is questionable], and developers should be wary of putting too much stock in it and depending on it as the sole method for driving an installed base."
Boosting In-App Ad Flows
First, the good news. This app ad system, if it gains any kind of traction, will likely lead to an increase in in-app advertising, Donnini said.
The system also is likely to improve user engagement, he added. "The ads will appear side by side with organic entries, and although they will be labeled as 'sponsored,' the ads are bound to pick up more clicks just by being there."
A final beneficiary, of course, will be Facebook, which has been scrabbling to beef up anything and everything mobile on its site.
"Facebook is diversifying its revenue stream and moving into an area that is very active right now," Donnini said.
"It is a great move for Facebook," said Steve Goldner, senior director of social media marketing at MediaWhiz and Ryan Partnership.
"They are following user behavior, and that is the best driver of innovation," he told the E-Commerce Times.
At the same time, Facebook is a public company under scrutiny right now, Goldner added. "So they need to focus on revenue-generating initiative."
Negative Implications
The beta system comes with risks as well — both to Facebook and to the developers that use it, although the greater risk could wind up being borne by the site.
Facebook may be placing itself — and its advertisers — right in the middle of some serious privacy issues, said Torin A. Dorros, an attorney with Michelman & Robinson's advertising, marketing, and media department.
"Some certainly could try to make a 'big brother' type of argument," he told the E-Commerce Times.
"If users associate merely their use of an app with the increased likelihood of receiving unwanted ads cluttering their Facebook news feed, that might make consumers more selective as to which apps they download and purchase," he continued. "It also might have the unintended effect of diluting the strength of Facebook's advertising and branding power, given currently Facebook users receive ads specifically from companies or advertisers that the users have affirmatively 'liked.'"
Facebook's emphasis on yet another ad initiative isn't necessarily a good thing for the site, according to Donnini. It is yet another illustration of how reliant Facebook is on advertising to generate revenue.
"It will not do much to quell investor fears as to how Facebook will continue to grow and generate profits for shareholders," he said.
"While Facebook is the largest social networking site, and while it has vast troves of data and is successfully generating ad revenue with strong engagement rates," Donnini acknowledged, "the bottom line is that [advertising] is their only avenue for generating growth — aside from social gaming, which has struggled in the last few months."
Investors are looking for Facebook to show it can drive growth in ways other than advertising, he maintained.
The ROI Story
Developers may wind up somewhat dismayed by their experience as well, Donnini said — if they put too much stock on the channel.
"These ads will be monetized on a cost-per-click basis, not a click-per-install basis," he said, "and while Facebook plans to allow developers to measure installs driven by advertisements in the future, it will be difficult for developers to establish an accurate ROI based on what is driven by these ads."
One step Facebook could take that would results in good developer returns would be to provide contextual relevance to the end users developers want to target, Goldner suggested.
"The system should be able to recognize usage patterns," he said, "and only recommend apps that are relevant to the user."