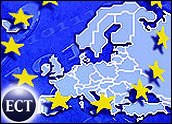 A plan by search giant Google to digitize vast stacks of library books in the UK and the United States is drawing the ire of European librarians, who want to launch a project of their own.
The national libraries of some 19 countries on the European continent have signed onto an alternative plan that would call for the European Union to invest millions to build its own digital library of European-focused literature.
Led by the national librarian in France, the nations want to ensure that any online library purporting to represent a comprehensive catalog of important literature includes strong representation from every European nation.
Unfounded Fears?
That, in turn, is a reaction to Google's announcement in December that it would work with Michigan University, Harvard University and Stanford in the U.S. as well as the Bodleian library at Oxford University in the UK and the New York Public Library to digitize millions of books and put them online where they could be searched and read for free. The project is known as Google Print.
The Google project, which will include the entire libraries of some universities, including rare and out of print texts now only available deep in the stacks of college libraries, is expected to take as long as a decade or more to complete.
Still, the move apparently stirred nationalistic pride and fear of falling behind in many European countries, who have already seen the Internet become widely dominated by both the English language and American technology companies such as Google.
Search Engine Watch editor Danny Sullivan said the concern is that each country sees its most important and representative books make their way online, which is a legitimate desire. But he said the massive resources that will be required to do separate repositories could represent a sizeable waste of resources if efforts are duplicated. It's likely, in other words, that the U.S. and UK libraries will contain important works of literature from Europe.
Still, Sullivan said Europe seems poised to "rush into a project in reaction to something Google's only just started."
Google has committed to spend as much as US$150 million on the project, but will stand to benefit from being able to place advertising on the pages served up by the repository.
Big Splash
In the U.S and elsewhere, the Google plan was hailed as a major advancement, possibly giving people who would otherwise have never seen such books free access to them from their homes.
At the time the Google program it was announced, the New York Public Library CEO called it one of the "most transformative events in the history of information distribution since Gutenberg."
Search expert John Battelle said Google's move is as much about monetizing and categorizing content as it is about what was Google's initial and core mission of ranking what was already available online, making it a significant departure.
"With Google Print, it moved from organizer of the Web to one of its builders," Battelle told the E-Commerce Times. That's a significant change and one that gives the search engine potential access to even more control over content, to a level that could understandably make some people uncomfortable.
He also noted that France has been at the leading edge of document-digitization efforts and likely has more books of national important online than many of the countries working with Google.