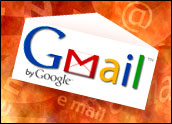 Search engine Google marked the one-year anniversary of the debut of its much-hyped Web-based e-mail program by boosting the free storage it gives users to a massive 2 gigabytes and promising to continue to move the bar higher as users' needs expand.
The move doubles the original 1 GB storage that came when Gmail debuted last April 1 and is seen by many as a resounding answer to recent moves by Yahoo and others, such as Lycos, to boost free e-mail storage to 1 GB.
'Power Users'
The original storage size of Gmail was so novel that there was some speculation that the entire idea was a hoax, with Google's decision to announce it on April 1, 2004, through a tongue-in-cheek press release only contributing to the confusion. At the time, many analysts said it would take years of unchecked messages to clock such a storage bin.
However, Google now says that some "power users" of Gmail are concerned about approaching the original storage limit as they use the Web mail product to store data-heavy files. The search engine said its goal is to make sure users never have to worry about Web mail storage.
Most analysts see the massive storage offering as a relatively inexpensive, and therefore shrewd move that is far more about marketing than it is about technology.
Since most users might never come close to filling the mailboxes, boosting storage well beyond competitors' offerings is a way of burnishing Google's image as a technology powerhouse, a branding effort that reaches to all areas of what Google already does — notably search — and what it might do in the future.
Reward Program
At the same time, the extra storage is also a loyalty bonus, the type of perk meant to make it clear to users that there's no need to stray to other providers.
E-mail is considered a key loyalty lever, meanwhile, because users who store messages and their attachments — which could be anything from documents to music and digital photos — with a Web service are extremely unlikely to leave.
"You can switch search engines without much consequence — you can come right back," Forrester Research analyst Charlene Li told the E-Commerce Times. "But with e-mail, it's a lot harder to jump around."
While users can — and do — sign up for multiple Web-based accounts — many are wary of changing e-mail addresses for fear of losing contacts along the way.
Google also scores subtle public relations and branding victories by making its competitors — most notably Yahoo and Microsoft's Hotmail — respond to what it is doing. For instance, when Gmail was debuted last year, Yahoo was providing 4 MB of storage and Hotmail offered 2 MB for free. In response, both Yahoo and Hotmail eventually increased their free e-mail space to 250 MB.
"One of the keys to Google's success has been that it created the image that it's smarter and more technologically savvy than its competitors," Li said. Even if not true, it's a perception that creates a powerful brand association, she added.
Google's rivals have offered larger storage capacity for a fee, with Yahoo offering users the option to pay for 2 GB of storage today.
Waiting for Launch
Others see additional advantages. By convincing more users to store more documents on their Gmail accounts, Google is boosting the chances they'll return there to search for items in the future. If they do, Google has the ability to place contextually relevant ads alongside, creating new landscape that it can populate in part with paid advertising.
To do that, Google needs a massive amount of storage. This week, Google said in a filing with the Securities and Exchange Commission (SEC) that it would boost its investment in storage and servers to around US$500 million, a 50-percent jump from last year.
While Google's technology has long been seen as its biggest advantage, analysts say Google has also created one of the most impressive networks of wired-together computers, one that gives it enormous flexibility to roll out new products and services.
For instance, many have speculated that Google would enter the Web hosting arena, a theory that got new legs when Google recently signed up for the right to become a domain registrar. A related theory says that Google might be weighing a service that would enable users to copy the contents of their hard drives to a Google-controlled Web location that could then be accessed from any Internet-connected device.
"Google's infrastructure, not just search technology, is its most important competitive strategic advantage," UBS Investment Research analyst Ben Schachter wrote in a recent report.
Still Crazy
Many observers believed Google would formally launch Gmail today — it has been in beta form so far — but there was no sign that would happen. Whether that indicated that Google was weary of throwing open its doors to anyone who wanted to stake a claim on the 2 GB mailboxes was not clear.
Also not known is how many users Gmail has signed up, though its believed to be a number in the thousands compared to millions of users for rivals.
While Google played the Gmail storage upgrade straight this year, it still had its April Fool's Day fun, using its search home page to announce the beta availability of "Google Gulp," a supposed line of beverages that boosts brain power. The spoof even pokes fun at Google itself and its critics, by claiming that bottles of the imaginary beverage come equipped with wireless transmitters that send information about users to a secret server farm.
Google also obtusely addresses its own penchant for slapping the "beta" tag on innovations in a FAQ about the drinks, asking, "What's so great about taking things out of beta?"