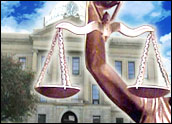 Google today said it has not yet decided whether to appeal Friday's ruling by a French court that ordered it to pay US$260,000 plus costs to luxury goods maker Louis Vuitton for breach of trademark.
The high court in central Paris also ordered Google to stop displaying advertisements for Vuitton's rivals whenever Web searchers typed the plaintiff's name or other trademarks into the search engine.
The court found Google guilty of false publicity and counterfeiting, supporting Vuitton's claims that Internet users looking for genuine products were shown ads for companies selling forgeries.
Opening the Floodgates?
"We're studying the ruling," Google France spokeswoman Myriam Boublil said. "No decision's been taken yet on an appeal."
This is not the first time French courts have ruled against Google's "Adwords" system, a program that allows companies to use rival's trademarks in paid searches.
A court in Nanterre, west of Paris, found Google guilty of violating a trademark of an online tour operator in 2003. Also, Google is currently defending itself against Paris-based AXA, the world's third-largest insurer.
Financial analyst Martin Pyykkonen of Janco Partners told the E-Commerce Times that this latest ruling has little impact on Google, other than a small financial hit. However, if Google lost enough of these trademark suits, then it could open the floodgates for additional legal claims.
"This is not a big revenue issue today," Pyykkonen said. "But if the momentum among advertisers builds, then this could be a big issue for Google down the road. Google has been targeted because it is the most popular search engine and it has deep pockets."
To Appeal or Not to Appeal?
To appeal or not to appeal? That is a question the search engine industry is waiting to see answered. Google has appealed the French court's decision before in a similar case. However, Pyykkonen said Google could be employing a wait-and-see strategy before racking up any more legal fees.
Analysts said Google competitors like Yahoo and Ask Jeeves would do well to keep a close eye on these suits. If Google falls victim to enough trademark infringement rulings, these companies could become the next target.
"It's fair to say that the U.S. is more tolerant and lenient about including a competitor's name in advertisements," Pyykkonen said. "But France has proved to be more conservative, and that's not good for Google since Europe is a big part of its growth strategy."